Weekly Bulletin: Friday 11th December 2020
Headteacher's message
Dear Parents/Carers,
We are all looking and feeling very Christmassy today, as Christmas jumpers and Christmas lunch put a smile on everyone's faces! If you would like to make a donation to Save the Children as part of Christmas Jumper Day, please do so online at: https://www.savethechildren.org.uk/donate . Thank you for your support.
As 2020 draws to a close, we are excited to share new plans for Forest School in 2021. Due to Covid disruption, we haven't been able to go on any class trips so far this academic year. As a result, it's more important than ever that we make the most of the enrichment opportunities found on our school site. Our children are lucky to have some wonderful school grounds to enjoy, including our pond and woodland areas. Earlier this month, a team of volunteers spent a day tidying up our Forest School area and woodland walk, meaning that these areas are now ready for outdoor learning sessions. From January-July 2021, we plan to offer a 5 or 6 week block of half-day Forest School sessions to all children in Years 3-6, provided by Medway Valley Countryside Partnership (MVCP). For more information on Forest School and MVCP, please visit https://medwayvalley.org/forest-school/. A full information pack for Year 3 will be sent home on Monday.
This is a really exciting opportunity for all children in Key Stage 2 to participate in Forest School this year. This offer is possible for one year only, but following this, our future plan is to offer Forest School to all Tunbury children when they reach Year 3, meaning that all of our children will participate once during their primary school years.
In addition to the MVCP Forest School program for Years 3-6, our younger children will also begin to experience a wider range of outdoor learning opportunities from January onwards. For our Reception children, we will let you know about our teacher-led Forest School opportunities after Christmas. We know that outdoor learning supports children's well-being, mental health and personal and social development – so after the challenges of 2020, we hope that all of our children will benefit from this provision.
Successful outdoor learning does depend on a high ratio of adult support, including both school staff and volunteers. If you are interested in volunteering your time to support children's learning in Forest School sessions, please email us at office@tunbury.kent.sch.uk
Have a lovely weekend everyone.
Best wishes
Ruth Austin
Headteacher
Our Learning Year 3
Our topic this term is the Anglo-Saxons. We have explored and written in role of an Anglo-Saxon warrior and looked at the lives of Anglo-Saxon children, comparing their lives to ours.
We have designed and made our own shields and brooches.
We are sad to be coming towards the end of our 'Time Voyagers' topic but we continue our journey along the timeline and our next topic is the Mayans. We will be exploring an alternative world without chocolate!
Next week is our Christmas week and we are very much looking forward to the surprises we have in store. Year 3 hope you all have a lovely, well-deserved Christmas break and we will see you all in the New Year.
Notices
Covid-19: It is vitally important that nobody with symptoms of Covid-19 should approach or enter the school site. Please be aware of the following government advice:
If you have any of the main symptoms of coronavirus (COVID-19), get a test as soon as possible. Stay at home until you get the result. The main symptoms of coronavirus are:
a high temperature – this means you feel hot to touch on your chest or back (you do not need to measure your temperature)
a new, continuous cough – this means coughing a lot for more than an hour, or 3 or more coughing episodes in 24 hours (if you usually have a cough, it may be worse than usual)
a loss or change to your sense of smell or taste – this means you've noticed you cannot smell or taste anything, or things smell or taste different to normal

Most people with coronavirus have at least 1 of these symptoms. If you have any of the main symptoms of coronavirus:
Get a test to check if you have coronavirus as soon as possible.
You and anyone you live with should stay at home and not have visitors until you get your test result – only leave your home to have a test.
Anyone in your support bubble should also stay at home if you have been in close contact with them since your symptoms started or during the 48 hours before they started.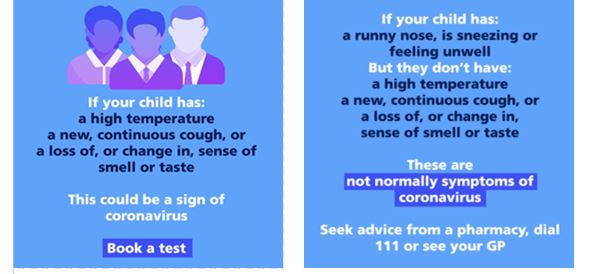 If you need to inform us of a positive Covid test result, please do so straight away, either by phone (during the working day) or email (in the evenings or weekend) to the school office: 01634 863085 or office@tunbury.kent.sch.uk
Team Points: With one week to go, Holmes are still holding onto their lead! Well done.
| | | | |
| --- | --- | --- | --- |
| Rowling | Attenborough | Holmes | Hawking |
| 3983 | 4208 | 4301 | 3944 |
Severe Snow/Ice Plan for Parents and Families: Every winter brings the possibility of snow and ice. Extreme bad weather can cause widespread and prolonged disruption. Please visit the school website for our severe weather guidance: https://www.tunbury.kent.sch.uk/Parents/Severe-Weather
Dates for your Diary

Term Dates: https://www.tunbury.kent.sch.uk/Parents/Term-Dates-2020-2021/
Monday 14th December - Year 6 World War 2 Day
Friday 18th December – end of Term 2 and Christmas Party day for all classes – children can wear their own clothes/party clothes all day
Monday 4th January – INSET DAY – no children in school
Tuesday 5th January – children return to school for the start of Term 3