Weekly Bulletin: Friday 12th May 2023
Headteacher's message to parents/carers
Dear Parents/Carers,
Thank you for joining us at last for Friday's Coronation Celebrations – what a fantastic time we had! Amazingly the weather stayed fine for us and it was so lovely to see our Tunbury school community coming together for this occasion. A few people commented that this was a 'child-centred' coronation celebration, in other words, we picked something special that our children would really enjoy and remember. While more traditionally-minded folk might have planned cucumber sandwiches, we went for lots and lots of bouncy castles! I'm sure King Charles III would have approved…
Yesterday, our Reception classes had a wonderful time on their first ever school trip, visiting Nonington Farm, near Canterbury. Children had such a positive experience, learning about farming, feeding the birds and watching a sheep dog round up some sheep – amazing! Our children showed bags of curiosity and enthusiasm, asking so many interesting questions and learning a huge amount in just one day. Thank you to our staff and parental volunteers for taking part in this trip.
Also this week, we would like to say a huge well done to our Year 6 children for the brilliant attitudes they showed throughout their SATs tests. They showed determination, independence and resilience throughout the week and we were so proud of them all. Great work!
Finally, just a reminder that the first of our Summer Term Open Afternoons is on Monday. These are planned by different year groups and Year 1 are going first, on Monday, making Moon Buggies in the hall, from 2.00-3.00 – please join us if you can. (Full details of Open Afternoons for each year group are in the notices section.)
Have a lovely weekend everyone.
Best wishes
Ruth Austin
Headteacher
Our Learning: Year 3
This term our topic is Anglo-Saxons. We have been learning about how the Anglo-Saxons settled in the United Kingdom and the countries they travelled from. We have been reading a fiction book and two non-fiction books this term; Beowulf, Anglo-Saxon CGP and Anglo-Saxon Times. The children have acted out, planned and written a character conversation using synonyms for the word said. The children researched the difference between the top and bottom of society and discussed which part of society they would have liked to live in and why.
Our science topic this term is Animals Including Humans. We have been learning about animal and human diets. The children have identified the five different food groups on the Eatwell Plate and understand that humans need to eat a balanced diet to stay healthy. Using this knowledge the children created a healthy and balanced three course meal. The children identified which food groups contribute to a balanced meal. This week, we have been identifying different bones in our bodies and explaining the function of a skeleton.
On Friday 5th May, we visited Wingham Wildlife Park. The children were very excited to see all of the different animals and we were very lucky with the weather. When we arrived, we attended a classroom talk all about 'Weird Wildlife'. The children learned about different size eggs that different animals lay, learnt fun facts about animal species and examined animal artefacts. The children thoroughly enjoyed walking through the lemur and wallaby enclosure, the flamingo enclosure, the Tropical house and the Bug house. We attended a tapir talk and learned all about where tapirs come from, what they like to eat and some fun facts about tapirs. Some of Year 3 were very lucky to watch the penguins being fed and listened to lots of fun facts about the penguins at Wingham. Walking around the wildlife park, the children saw lots of different species of animals and read all the information signs. They then linked this information back to our current science topic and our previous learning of deforestation.
The children's behaviour was exceptional and they were excellent representatives of Tunbury Primary School. We are very proud of them! We would like to thank all of the adults who came with us on the trip. You helped to make it a memorable experience for the children's first ever trip at Tunbury!
This week we have been planning and are creating a double page spread in our Topic books to showcase the learning from our trip.
Notices
Singing and Keyboard Lessons – Free Trials: As part of the development of music provision at Tunbury School, The Math Music Academy provides both individual singing and keyboard lessons. The Department of Education has recognised that singing improves a child's learning, confidence, concentration and social development. Further studies have also concluded that students who studied a musical instrument such as piano in primary school were almost one year ahead of their non-musically trained peers in their Maths, Science and English performance.
The Math Music Academy will be holding free 15 minute trial sessions week of the 12th June for interested pupils wishing to commence lessons in September. During these trial lessons for singing the teacher will do basic exercises, note recognition and some repertoire and for piano the introduction to the keyboard and basic fingering. Students have the opportunity to work towards school performances and concerts as well as graded examinations with both ABRSM and Trinity boards.
If interested, please email the music teacher Mrs Sophie Hyde on sophiehyde@aol.com to register for a free trial giving your child's name and class.
RSE (Relationships and Sex Education) Policy consultation: Our RSE policy is reviewed and approved annually by Tunbury Primary School's Governing Body. We are not suggesting any major changes to the policy this year, but we are consulting with Tunbury parents/carers as part of this annual review. This is to provide you with an opportunity to understand and ask questions about our approach to teaching RSE. Please read our draft 2023 RSE policy at Relationships_and_Sex_Education_Policy_2023_.pdf (tunbury.kent.sch.uk)
If you have any questions or comments on the teaching of RSE at Tunbury, please email these to office@tunbury.kent.sch.uk so that we can respond to you. Our RSE policy will be discussed at our Governing Body meeting on Wednesday 24th May, so please send any questions or comments to us by Wednesday 17th May. Thank you.
Road Crossing Patrol: Unfortunately we have had no success recruiting a road patrol for our school, but KCC have released another advert via the KCC Jobs Portal which can be found at the following link:
https://recruitmenthub.solutions/members/modules/job/detail.php?record=7877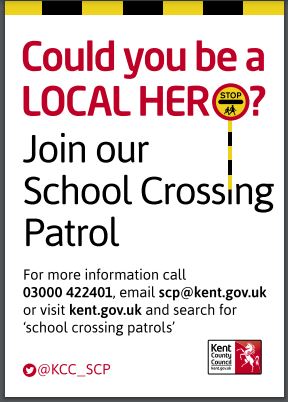 You could be our local hero, helping to keep our families safe on their journeys to and from school. If you or anyone you know may be interested in this position, please contact KCC as detailed above.
Toy donations: Mr Trotter is looking for donations of small toys and objects that are no longer needed to use for his sand play therapy with the children. Examples of things that would be useful are action figures, small figurines of buildings/structures, figures of animals, small cars/other vehicles or natural objects e.g. shells/stones/driftwood. Please either pass any donations on to the school office. Thank you in advance.
Summer term Open Afternoons: Just a reminder of our summer term events for each year group. We look forward to sharing children's learning with you!
Year Group

Summer Term event for Parents/Carers

Date

Time

Location

Year R

Cooks and Books

A cookery session based around a text. The parents will come into classes and hear the story with the children then will go into the hall to create some food together, then share. This is a cross curricular event, for PSED (Personal, Social and Emotional Development) areas as well as UTW (Understanding the World)

Tea and coffee available

Wednesday 12th July

2.00pm

Main hall

Year 1

Making Moon buggies

This will be a DT session. The children will be making their Moon buggies that they would have designed in the morning. We will have different stations set up e.g. glue gun station, decorating station, making station etc.

Tea and coffee available

Monday 15th May

2.00pm

Main hall

Year 2

Making Fruit Kebabs
This will be a DT session. The children will be designing and making fruit kebabs. They will be peeling, cutting and threading different fruits onto a kebab stick. A range of exotic fruits will be tasted and the kebabs will be evaluated.

Wednesday 21st June

2.00pm

Classrooms

Year 3

Science investigations – Forces
This will launch our science topic of Forces. We will be investigating friction, air resistance and water resistance.

Thursday 29th June

2.00pm

Main hall or field (dependent on the weather)

Year 4

Survival Shelters

This will be a DT session. The children will be making their own survival shelters that they would have designed in previous lessons. The children will be using pieces of wood and natural materials which they have collected.

Wednesday 12th July 2023

2.00pm

Classrooms

Year 5

Art in the style of Henri Rousseau

Come and join Year 5 as they link their rainforest topic with art work by Rousseau. Prior to your visit the children will have painted the background and mid-ground and this parent visit will culminate in creating the foreground of our rainforest using a multi-media effect.

Monday 10th July

2.00pm

Classrooms

Year 6

Afternoon Tea

This will be an opportunity for parents to join our Year 6 pupils in the hall for an afternoon of celebration. Our Year 6 pupils will be charged with the very important task of making quality scones for all to enjoy- jam, cream, and additional light refreshments (e.g. juice/squash) will also be provided.

Thursday 13th July

2.00pm

Main Hall
Weekly Class Attendance: This is a weekly feature on our bulletin to highlight and celebrate good levels of attendance. Well done to Crimson and Emerald for having perfect attendance for their SATS this week. Also well done to Blue for the top score for KS1.
| | |
| --- | --- |
| Class | Weekly Attendance Percentage |
| Crimson | ☆100%☆ |
| Emerald | ☆100%☆ |
| Lilac | 99.51% |
| Amber | 98.47% |
| Blue | ☆98.29%☆ |
| Pink | 98.1% |
| Indigo | 98.1% |
| Hedgehogs | 97.71% |
| Turquoise | 97.62% |
| Scarlet | 97.54% |
| Yellow | 96.57% |
| Orange | 96.55% |
| Bears | 96.27% |
| Ruby | 96.19% |
| Azure | 95.71% |
| Magenta | 95.57% |
| Violet | 95.24% |
| Owls | 94.81% |
| Red | 94.29% |
| Sapphire | 94.29% |
| Lavender | 91.9% |
Team Points: Holmes bear has been out and about this week – this photo shows a visit to Year 5 to learn all about Egyptians!
This week, Rowling team have taken the lead, so it's Rowling Bear who will be enjoying a tour of Tunbury this week, starting in Red class this morning. All of our teams now have over 3000 Team Points for the term, so well done everyone.
| | | | |
| --- | --- | --- | --- |
| Rowling | Attenborough | Holmes | Hawking |
| 3024 | 3059 | 3415 | 3194 |
Dates for your Diary
Term dates for 2022/23: https://www.tunbury.kent.sch.uk/Term-Dates-22-23/
Monday 15th May – Year 1 Open Afternoon, Making Moon buggies – main hall 2pm
Thursday 18th May - Netball tournament at Tunbury for collaboration schools (Tunbury, Wouldham, Burham and St Peters) NEW

Friday 19th May – Y5 Visit to Maidstone Museum

Monday 22nd– Friday 26th May – Outdoor learning week

Friday 26th May – Last day of term 5 for pupils

Monday 5th June - INSET Day – School Closed for pupils

Tuesday 6th June – First day of term 6 for pupils

Tuesday 6th- Friday 9th June – STEAM week

w/c Tuesday 6th June – Year 4 Multiplication Times Tables check

w/c Monday 12th June – Year 1 Phonics check
Thursday 15th June - Cricket tournament at Wouldham for collaboration schools (Tunbury, Wouldham, Burham and St Peters) NEW
Friday 16th June – TSA Disco for Year R and Year 1 children

Tuesday 20th June - New Entrants meetings in-school 3.30-4.30pm, or online 5.00-5.30pm

Wednesday 21st June – Year 2 Open Afternoon, Making Fruit Kebabs – classrooms 2pm

Thursday 29th June – Year 3 Open Afternoon, Science investigations – Main hall or field 2pm

Friday 30th June – Sports Day

Friday 7th July – Reserve Sports Day

Monday 10th July – Year 5 Open Afternoon, Art in the style of Henri Rousseau – classrooms 2pm

Wednesday 12th July – Year R Open Afternoon, Cooks and Books – Main hall 2pm

Wednesday 12th July – Year 4 Open Afternoon, Survival Shelters – Classrooms 2pm

Thursday 13th July – Year 6 Open Afternoon, Afternoon Tea – Main hall 2 pm

Wednesday 19th July – Year 6 Production 2pm and 6:30pm

Friday 21st July – Last day of term/academic year for pupils
Class assemblies
Class assemblies will be held in the school hall on Friday afternoons. Parents/carers and family members from each class are warmly invited to join us in school for these events, as our children love to share their learning with you. Please come to the front of the school and wait outside the hall entrance doors. You will be invited in at approximately 2.45 pm. The assembly will begin at 2.50 pm and last for about 10 minutes, finishing in time for you to collect your children at the end of the school day, as normal.
Friday 12th May Red Class Assembly
Friday 19th May Bears Assembly
Friday 26th May Owls Assembly
Friday 16th June Hedgehogs Assembly