Weekly Bulletin: Friday 13th November 2020
Headteacher's message
Dear Parents/Carers,
You will have seen our special Remembrance display outside school this week – didn't it look fantastic? Children in every class created their own poppies, which were then combined into a beautiful and poignant Tunbury poppy field at the front of the school. We received a number of positive responses from parents and neighbours as a result. Thank you to Miss Chiarletti for the creativity and organisation involved in this project.
As you'll know from our communication last Friday, we have now experienced our first single positive case of Covid-19, resulting in one class bubble self-isolating this week. Despite this, we're pleased to report that firstly, there have been no further cases, and secondly, our remote learning systems are working well. Our class teacher has ensured that children's learning is proceeding smoothly – she has been teaching four live lessons per day from home, with high levels of children's attendance and involvement throughout the week. Children have been joining the lessons in half class groups, so that every child has two live lessons per day (for English and Maths), with home learning tasks also set for the other curriculum areas. Well done to everyone involved - we look forward to seeing you back in school on Tuesday!
Finally, thank you for your support for this year's Children in Need appeal. It has been great to see children in school today wearing their house team colours and Pudsey ears. As we can't accept cash donations in school at the moment, please remember to make an online donation instead. You can do this at https://donate.bbcchildreninneed.co.uk/
Have a lovely weekend everyone.
Best wishes
Ruth Austin
Headteacher
Our learning – Year 5
We are so proud of how the children in Year 5 have started the year and we know that Term 2 will be just as great as Term 1 was! We started the year looking at the topic of Antarctica and the Polar Regions. The children looked at the story of Ernest Shackleton and how he overcame adversity. We read the book 'The Dot' by Peter Reynolds and explored how we can achieve anything if we are brave enough to start the process by drawing our own dot. The children all thought about what they wanted to achieve and we created the fantastic display you can see here.
In maths, we looked closely at place value and continued to consolidate the use of written methods for the four number operations. Our English was based on the book 'Sky song' by Abi Elphinstone, with the children writing in a variety of genres, creating stories, diary entries and recounts.
This term, our topic is 'The Vikings' and we are considering whether they deserve the title 'vicious'. We are reading 'How to train your Dragon' by Cressida Cowell and have already used it and 'The Hobbit' to create frightening descriptions of an evil dragon! We are looking at number in maths this term, exploring, multiples, factors, prime and composite numbers and how we can use them to solve two-step word problems. Each class has researched where the Vikings came from and have started to learn a song that will help keep the Viking warriors in time when they are rowing! We will continue with these topics for the rest of term and then turn our attention to Christmas in December, we can't wait!
We loved creating our poppies out of recycled plastic bottles and each class observed the 2 minute silence on Wednesday 11th November impeccably. The children created their own war poetry in the style of Wilfred Owen.
Notices
Admissions for children starting school in September 2021 are now open. Although we cannot welcome visitors into school at the moment, our school website has photos, videos and information for prospective parents at www.tunbury.kent.sch.uk/New-Entrants-2020/ . We have made new videos featuring our Reception staff, Year 6 children and Reception children – please take a look! Also, please share this information with friends or neighbours who may have a child starting school this year.
Applications for a primary school place should be made via your 'home' local authority.
To find out more, please join one of our online meetings:
Monday 16th November 2020 2:00pm
Wednesday 25th November 2020 5:00pm
Monday 30th November 2020 5:00pm
To book a place, please email office@tunbury.kent.sch.uk with your name and the session you are interested in joining. We will then send you a link to join the meeting via Microsoft Teams nearer to the time.
We are also aware that this year, parents may have extra questions or concerns about starting school. We are keen to support you with this, so please contact us through the school office with any queries so that we can help.
Anti-Bullying week: starting next week on 16th November 2020. The focus for this year is 'United Against Bullying.' To get the campaign started, we would like Tunbury pupils to join in with the odd socks day on Monday 16th November 2020 as an opportunity to express themselves and celebrate their individuality and what makes them unique. Staff will also be part-taking in this activity. We would like parents to make their donations online directly to the Virgin Money Giving page please. https://uk.virginmoneygiving.com/AntiBullyingAlliance
One of the activities that the children undertake will be a whole school sign language song about reaching out to others. The children will learn the song and each class teacher will record their class performances during the anti-bullying week. The videos will be merged together to create a Tunbury against bullying sign language video that will be put on the school website. Children who do not have permission to be on the website will not appear in the video. They will take on the role of a co-director by standing behind the iPad to support the others with signing.
Please be aware that the normal rules still apply for school uniform (including shoes), hair and jewellery. The children across the school will also be having extra PSHE sessions and will complete a number of activities based on anti-bullying.
Thank you for your continued support.
School Meals: In addition to the menu published on the website baguettes (Cheese, Ham, Tuna) will also be available for pupils in KS2 https://www.tunbury.kent.sch.uk/Parents/School-Meals/.
Delivery of forgotten items reminder: Please try and avoid dropping off forgotten items for the office staff to deliver to your child after the start of the school day. Due to the present Covid-19 'bubble' systems, delivering these items is not nearly as simple as normal! Thank you for your support in this matter - your help is much appreciated.
Team Points: After two weeks of Term 2, Attenborough are in the lead. Well done!
| | | | |
| --- | --- | --- | --- |
| Rowling | Attenborough | Holmes | Hawking |
| 830 | 991 | 976 | 870 |
Covid-19 symptoms: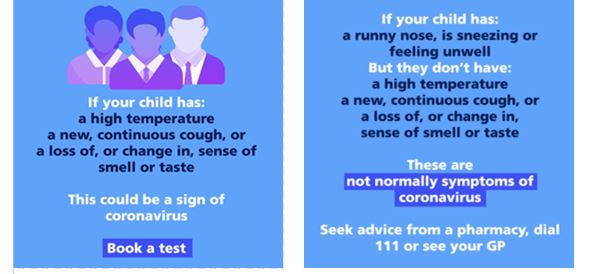 Dates for your Diary
Term Dates: https://www.tunbury.kent.sch.uk/Parents/Term-Dates-2020-2021/
Monday 16th November 2020 – Anti-Bullying Week, starting with Odd Socks day
Monday 16th November – Flu Vaccinations – NHS
Monday 16th November 2020 - New Entrants Meeting for next year's Reception (2pm)
Wednesday 25th November 2020 - New Entrants Meeting for next year's Reception (5pm)
Monday 30th November 2020 - New Entrants Meeting for next year's Reception (5pm)
Friday 11th December 2020 – Christmas Lunch