Weekly Bulletin:Friday 14th February 2020
Headteacher's Message
Dear Parents/Carers,
Half way through the year already…. how time flies!
This week, children have been thinking about online safety in our annual Safer Internet Day. As parents, keeping our children safe online can be a source of concern and although there is plenty of advice available, it's sometimes hard to know where to start. Following this week's work in school, why not follow up some of these themes at home with the following ideas from www.internetmatters.org/safer-internet-day
Start with a positive conversation
Get them to think critically about online and offline influences
Highlight the importance of being #FreeToBe online
Encourage them to review their data and privacy
Stay engaged with what they do online
Thank you to everyone who joined us in school for our Open Afternoon – children were certainly very excited to show off their learning, with lots of lovely conversations and proud moments taking place. If you couldn't attend Open Afternoon, we look forward to see you at one of our future events, such as Parents' Evenings on 5th or 10th March – appointment slots are now available to book online. (For details of how to book, please see your emails or the letter at www.tunbury.kent.sch.uk/Parents/Letters-Forms .)
Finally, well done to Holmes team, who were the winners of the Term 3 Team Points, with a grand total of 4295 team points. Holmes team enjoyed extra playtime this morning as a reward.
Have a lovely half term break everyone. Remember that we have an INSET day in school on Monday 24th February, so we look forward to seeing children back in school on Tuesday 25th February.
Ruth Austin
Headteacher
Safer Internet Day 2020
On Tuesday 11th February, we participated in lessons for Safer Internet Day that were based on the theme of 'Free To Be Me'. We learned how to keep our personal information to ourselves and separate from our online identity. We learned that we cannot hide behind our online identity and are still responsible for what we say and do online.
As the Ambassadors, we held two assemblies (EYFS, KS1, Y3 and Y4, 5, 6), on the importance of being safe online and about being ourselves in a safe way. We will be displaying some of the outcomes from the day in our computer suite.
Please remember to keep an eye on what your children are doing and accessing online to help keep them safe.
The Online Safety Ambassadors.
Our learning Year 6
This term we have explored our topic of Ancient Greece and read our key text, 'WHO LET THE GODS OUT?' that has enabled the children to produce outstanding pieces of writing including speeches and poems. We have designed our own Greek pottery, looking closely at the pattern and colour to ensure the meaning of the pot is clear. We have used charcoal, chalk and e-resources to improve our artwork, which we have finalised by making them out of clay.
Last week, we were fortunate to have a Greek Workshop come in for the whole day to inspire the children into a range of different topics. This included Greek games, Athenian democracy and exploring primary and secondary resources, which the children found enjoyable and engaging. We look forward to continuing our learning of Ancient Greece into next term where we will be focusing on the Olympics!
Share a Million Stories
On Thursday 5th March it is World Book Day and we shall be celebrating this starting on the Monday of that week:
Monday 2nd March
All teachers will be sharing their favourite stories with the children. Children will receive a book voucher during the week.
Wednesday 3rd March
Children to bring in their favourite story to share with another class.
Thursday 5th March - World Book Day!
Teachers and children to dress up as character from their favourite book. As part our effort towards helping the environment, we are asking for costumes to be homemade where possible.
Children will also be swapping classes to complete a range of activities on the theme 'Share a Million Stories'.
During the afternoon, children will complete artwork based on their text by Louise Greig.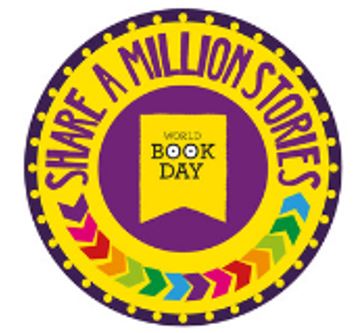 Notices
During the week we collected a cheque from Asda, Chatham for £1000. This will be used for developing our outside sensory area. Thank you to Jo Busby for organising, and to all the parents that contributed and added green tokens on our behalf.


NHS Immunisation Team There is still time to get the nasal fluvaccination. Even though it's best to get vaccinated as soon as the flu vaccine is available, getting the vaccine later can still help protect against the flu virus. There are still a few months left in the flu season, so it's a good idea to get vaccinated. The Kent and Medway Immunisation team is running clinics over the February half term, to book a clinic appointment please contact them on kchft.cyp-immunisationteam@nhs.net or 0300 123 5205.

Reminder: our 2020-2021 term dates (including INSET days) are now published at www.tunbury.kent.sch.uk/Parents/Term-Dates-2020-2021


Year 1
Please could we ask children in Year 1 to bring in a copy of a photograph of them as a child on the first day back after the February break. Year 1 will be creating a display using these photographs. The Year 1 Team


Year 4
Do you have any candles that you don't want (part used are fine)? Please send them in for Year 4 to use for their Survivors topic starting after the February break. The Year 4 Team


Come to our Book Fair
Monday 16th – Thursday 19th March 2020
In March, we are lucky enough to have the Travelling Book Fair in school again. The book fair will be open between 3.30 pm and 4 pm, (location to be advised). This is a great opportunity to buy new and exciting books for your children to read and also help us raise money to buy new texts for the children to access in school.
Dates for your Diary
Friday 14th February – Last day of Term 3
Monday 17th February – Friday 21st February – February Break
Monday 24th February – INSET DAY – School Closed for pupils
Tuesday 25th February – Start of Term 4 for pupils
Thursday 5th March – World Book Day: children to dress up as a character from their favourite book NEW
Thursday 5th March – Parents' Evening 3.40 pm – 6.30 pm
Monday 9th March – Y2 visit to Leeds Castle
Tuesday 10th March - Parents' Evening 3.40 pm – 6.30 pm
Wednesday 11th March – Year 5 visit to the Royal Observatory
Thursday 12th March – Year 1 visit to Kent Life
Monday 16th March till Thursday 19th March – Travelling Books sale NEW
Tuesday 17th March – Year 1 'Poor' Victorian Day NEW
Thursday 19th March – Parent Forum – 5 pm
Thursday 26th March – Last day for Extra – Curricular Clubs
Tuesday 31st March – TSA Easter Hunt
Wednesday 1st April – Last Day of Term 4
Thursday 2nd April – Wednesday 15th April – Spring/Easter Break
Thursday 16th April – Start of Term 5
Tuesday 21st April – Swimming starts for Rubyclass
Wednesday 29th April – Friday 1st May – Year 4 Residential visit to Swattenden
Monday 4th May – Classes and Year 6 group photos – Tempest Photographers
Friday 8th May – Bank Holiday – School Closed
Monday 11th May – SATs Week – Year 6
Monday 18th May – SATs Week – Year 2
Friday 22nd May – Last day of Term 5
Monday 25th May – Friday 29th May – May Break Week
Monday 1st June – INSET DAY – School Closed for Pupils
Tuesday 2nd June – Start of Term 6 for pupils
Monday 8th June – Phonics check week – Year 1
Monday 15th June – Friday 19th June - Bikeability Cycle Training Year 6
Monday 15th June – Multiplication Tables check week – Year 4
Friday 26th June - Year 4 visit to Horton Kirby
Monday 6th July – Sports Day – KS2 am, KS1 pm (Reserve Day, Monday 13th July)
Wednesday 8th July – Parent Forum – 2 pm
Friday 10th July – TSA Dare to be Different/Family Picnic
Wednesday 15th July – Year 6 performances 2 pm and 6 pm
Thursday 16th July – Annual Reports home to parents
Monday 20th July – Parents' Open Afternoon 2 pm
Monday 20th July – Parents' drop-in with class teachers regarding reports 3.15 -4.15 pm
Wednesday 22nd July – Year 6 Leavers' Assembly – 2 pm
Wednesday 22nd July – Last day of Term 6 / Academic Year
Class Assemblies
Class assemblies take place on a Friday at the end of the school day. Please wait outside the hall entrance doors. You will be invited in at approximately 2.50 pm, once the children are seated, and the assembly will begin at 2.55 pm. It will last about 10 minutes.
Friday 14th February – Lavender
Friday 6th March – Emerald
Friday 13th March – Magenta
Friday 20th March – Ruby
Friday 27th March – Azure
Friday 15th May – Blue
Friday 22nd May – Red
Friday 12th June – Pink
Friday 19th June – Yellow
Friday 26th June – Bears
Friday 3rd July - Owls
Friday 10th July – Hedgehogs