Weekly Bulletin:Friday 16th October 2020
Headteacher's message
Dear Parents/Carers,
This week I had the great pleasure of reading a (socially distant) story to our youngest children in my first short visits to our three Reception classes. Our new starters have settled into school so well - despite all the challenges of this year – they are happy, settled and enjoying their learning. It's lovely to see them making such a good start, so thank you to our parents and our caring staff team in Reception for making this possible. On my class visits, I read them the story 'Jasper's Beanstalk', which is all about being patient….. something that can be tricky when you are 4 years old!
From our youngest to our oldest learners, we are really proud of our children's behaviour and attitudes at Tunbury. After seeing Year 6 this week, I know that our oldest children are positive, hard-working and determined to succeed, with excellent behaviour throughout the school day. Again, this is thanks to a skilful staff team who support and encourage children's learning through whole-class teaching and detailed knowledge of each individual child. Like our Reception children, our Year 6 students also love reading - their class book is 'Anna at War', linked to their learning about World War II in History. I've been inspired to read the first 20 chapters (so far) myself and it's a fantastic story.
Next week is STEAM week in school, which stands for science, technology, engineering, art and maths. Children will be trying out a range of different activities on the theme of 'Movement'. We'll tell you more about our STEAM week learning in next week's bulletin on Thursday. Please remember that next Friday, 23rd October, is an INSET day, so children finish Term 1 on Thursday 22nd October.
Have a lovely weekend everyone.
Best wishes
Ruth Austin
Headteacher
Our learning
This week's Our Learning update is from Year 2.
Our topic this term has been 'Inside the toybox.' We have enjoyed finding out about toys around the world and showing the different continents that they come from on a map. We made a Chinese toy called a tangram and wrote instructions for the images we made.
Also as part of our learning for this topic we have read the book The Sea Saw and have completed lots of writing including a travel brochure, instructions and diary entries.
In Science we have been looking at materials. We have tested the properties of different materials by bending, squashing and squeezing and we worked out which material was the strongest. We then used what we found out to build a bridge out of paper that needed to support a toy car. We worked carefully together as a team to construct our bridges. Some of them were successful and held the toy car for over 20 seconds!
Notices
Covid-19 symptoms: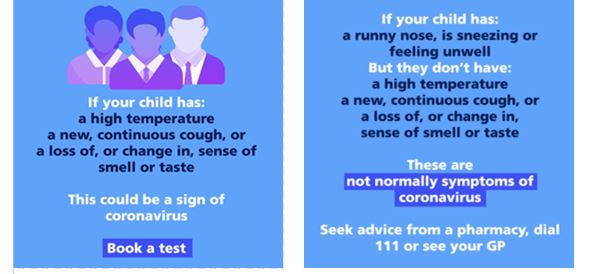 Please read this letter from Public Health England for further guidance:
www.tunbury.kent.sch.uk/docs/letters/23rd_September_-_PHE_letter_to_parents_and_guardians.pdf
Remembrance Day: this year we are hoping to complete a whole school art project. We are hoping that this will be an opportunity to work collaboratively (at a distance). If your child could bring in a plastic bottle on the week beginning 2nd November so they can be 'quarantined' before use. We would appreciate it if the bottom of the bottle could be cut off as this is the part we will be using.
Thank you for your continued support.
Children in Need: as a school we would like to continue to support this National charity event. So this year, the children (and staff) can come to school wearing their own clothes on Friday 13th November 2020 but in their house team colour please. We are unable to collect donations ourselves therefore we ask that you make your donation directly to Children in Need either by phone or online. https://donate.bbcchildreninneed.co.uk/
Team Points: Holmes are still in the lead, but with Golden Team Points (worth 50 points each) to be awarded next week, things could still change before we reach the end of Term 1. The prize for the Term 1 Team Point winners will be to wear their own clothes instead of school uniform on the first Friday after half term. We'll let you know who the winners are next week.
| | | | |
| --- | --- | --- | --- |
| Rowling | Attenborough | Holmes | Hawking |
| 4950 | 4747 | 5035 | 4935 |
PE Kit: With the arrival of wetter weather, we are recommending that parents send in a spare pair of shoes and socks to allow children to change into dry shoes and socks if theirs become wet during PE. It would be best if these are left in school. Taking part in PE is really important and it is safest for this to be done outside. Children will be outside in both dry and damp conditions, as well as light rain, so it is advised that sturdy waterproof trainers are worn if possible. If the rain is heavy, children will take part in PE activities indoors. Where possible, we will endeavour to get the children active outside for some of their PE session, where they may get caught in heavy showers therefore making the change of shoes important.
Starting at Primary School: Do you have a child born between 1st September 2016—31st August 2017? If your child will be 4 years old by 31st August 2021, you can apply for your primary school place now. For parents who live in the Kent local authority, parents can apply online at www.kent.gov.uk/primaryadmissions
For parents who live in the Medway local authority, parents can apply online at
https://www.medway.gov.uk/admissions
Applications must be submitted before 15th January 2021.
For children due to start school in reception in September 2021, we are holding a number of virtual new entrants meetings:
Thursday 5th November 2020 9:15am
Monday 16th November 2020 2:00pm
Wednesday 25th November 2020 5:00pm
Monday 30th November 2020 5:00pm
To book a place, please email office@tunbury.kent.sch.uk with your name and the session you are interested in joining. We will then send you a link to join the meeting via Microsoft Teams nearer to the time.
Dates for your Diary
Please note: at present, we are planning for all Autumn term events or meetings with parents and carers to be held online, rather than in person. This will include the Autumn term parent consultation meetings.
Term Dates: https://www.tunbury.kent.sch.uk/Parents/Term-Dates-2020-2021/
Monday 19th October – Thursday 22nd October 2020 – STEAM Week
Friday 23rd October 2020 – INSET Day
Thursday 5th November 2020 – New Entrants Meeting for next year's Reception (9:15am)
Thursday 5th November 2020 – Parents Evening (3:40pm – 6:20pm)
Tuesday 10th November 2020 – Parents Evening (3:40pm – 6:20pm)
Friday 13th November 2020 – Children In Need
Monday 16th November 2020 – Anti-Bullying Week
Monday 16th November – Flu Vaccinations – NHS
Monday 16th November 2020 - New Entrants Meeting for next year's Reception (2pm)
Wednesday 25th November 2020 - New Entrants Meeting for next year's Reception (5pm)
Monday 30th November 2020 - New Entrants Meeting for next year's Reception (9:15am)
Friday 11th December 2020 – Christmas Lunch