Weekly Bulletin: Friday 20th November 2020
Headteacher's message
Dear Parents/Carers,
This week has been our annual anti-bullying week in school. Starting with Odd Socks day on Monday, children have worked on a range of PSHE resources in each class to understand what bullying is and how we can stop it. For example, children learned about group behaviour in bullying and how the roles of 'assistants', 'reinforcers' and 'outsiders' could allow bullying to continue. If you would like more information on this or to follow this up with your child at home, please see the resources we used at www.anti-bullyingalliance.org.uk/anti-bullying-week/school-resources/primary-school-pack At Tunbury, we give children a very clear message: bullying is not tolerated within our school community. To help children remember what bullying is and how to stop it, we used the 'STOP' slogans in today's whole school assembly, as follows:
Also this week, children throughout the school have been learning to sign to the song 'Reach out your hand', which has a strong anti-bullying message. We have been working on our own Tunbury version of the video, but for now, please have a look at the original version at www.youtube.com/watch?v=ifs0KZUrKAw or just ask your child to show you!
As you will already know, we experienced our second individual positive case of Covid-19 in school this week, resulting in a number of children and staff having to self-isolate. Again, this is a single case in a member of staff, who attended work before the onset of symptoms. We have still not seen any positive cases in our children at any stage of the pandemic. Although our incidence of Covid-19 cases remains relatively low, we do understand that this week's news has caused increased anxiety for parents, children and staff, so we're working hard to provide reassurance to those who are particularly worried. We are following all the relevant protocols and guidance to keep our school community as safe as possible.
Have a lovely weekend everyone – take care and stay safe.
Best wishes
Ruth Austin
Headteacher
Our learning – Year 1
Year 1 have had a brilliant start to the school year! We were particularly proud of the children's Brainbuilder projects. This is something new for the year 1 children and they have really tried their best and showed fantastic creativity.
In English we are continuing to read and learn about traditional tales in our topic 'Enchanted Woodland'. In term 1 the children enjoyed investigating a woodland crime scene! They had to examine the evidence and describe it using a range of adjectives. The children discovered that the items had been stolen by Jack from Jack and the Beanstalk. This term we have been reading 'The Town Mouse and the Country Mouse' and 'Beauty and the Beast'.
In maths the children have been learning to add and subtract. This week the children have read some 'first, then and now' stories to show how many items are being taken away and to help them work out what is left at the end. The children have also been working hard to learn their number bonds and have been enjoying playing games such as Bond Bubbles and Hit the Button.

In PSHE we discussed different emotions and strategies to calm ourselves down in difficult situations. Something we thought of were the use of sensory bottles- we even had a go at making these ourselves.
For Anti-bullying week this week the children have been learning about being kind and recognising that we are all unique. The children have created some positive messages to spread kindness.
Notices
Covid-19: It is vitally important that nobody with symptoms of Covid-19 should approach or enter the school site. Please be aware of the following government advice:
If you have any of the main symptoms of coronavirus (COVID-19), get a test as soon as possible. Stay at home until you get the result. The main symptoms of coronavirus are:
a high temperature – this means you feel hot to touch on your chest or back (you do not need to measure your temperature)
a new, continuous cough – this means coughing a lot for more than an hour, or 3 or more coughing episodes in 24 hours (if you usually have a cough, it may be worse than usual)
a loss or change to your sense of smell or taste – this means you've noticed you cannot smell or taste anything, or things smell or taste different to normal
Most people with coronavirus have at least 1 of these symptoms. If you have any of the main symptoms of coronavirus:
Get a test to check if you have coronavirus as soon as possible.
You and anyone you live with should stay at home and not have visitors until you get your test result – only leave your home to have a test.
Anyone in your support bubble should also stay at home if you have been in close contact with them since your symptoms started or during the 48 hours before they started.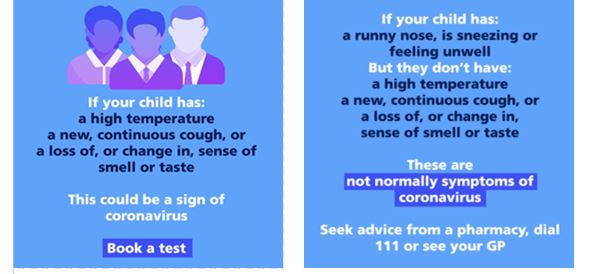 Admissions for children starting school in September 2021 are now open: Although we cannot welcome visitors into school at the moment, our school website has photos, videos and information for prospective parents at www.tunbury.kent.sch.uk/New-Entrants-2020/ . We have made new videos featuring our Reception staff, Year 6 children and Reception children – please take a look! Also, please share this information with friends or neighbours who may have a child starting school this year.
Applications for a primary school place should be made via your 'home' local authority.
To find out more, please join one of our online meetings:
Wednesday 25th November 2020 5:00pm
Monday 30th November 2020 5:00pm
To book a place, please email office@tunbury.kent.sch.uk with your name and the session you are interested in joining. We will then send you a link to join the meeting via Microsoft Teams nearer to the time.
We are also aware that this year, parents may have extra questions or concerns about starting school. We are keen to support you with this, so please contact us through the school office with any queries so that we can help.
School Crossing Patrol: Clare Dillon, School Crossing will be returning to her duty next week helping children cross the road.
Dropping off children: Please can we ask that parents do not drive onto the school premises to drop off children in the mornings, even if children are attending breakfast club or early morning teaching sessions. Please park outside school and walk into school.
Flu Vaccinations: If you did not return a consent form and would like your child to receive the nasal flu vaccination, the immunisation team can offer you an appointment at one of their community clinics. You can find the dates and locations of their clinics on their website www.kentcht.nhs.uk/imms and click on the clinic dates link. To book an appointment at a clinic please email the immunisation team on kchft.cyp-immunisationteam@nhs.net or call 0300 123 5205
Team Points: After three weeks of Term 2, Holmes have just overtaken Attenborough to take the lead. Well done!
| | | | |
| --- | --- | --- | --- |
| Rowling | Attenborough | Holmes | Hawking |
| 1887 | 1944 | 2178 | 1902 |
Christmas Jumper Day: The School Council have agreed to support 'Save The Children, Christmas Jumper Day 2020'. It will be held on Friday 11th December and this will also be the day we have our school Christmas Dinner. We are inviting the children to not only wear their Christmas jumpers, but to be in non-uniform that day too (as 'Christmassy' as possible please!). The children will be involved in Christmas themed learning on this day. We will be requesting a donation of £1 per pupil to go to Save the Children. We would like donations to be made online at: https://www.savethechildren.org.uk/donate Together we will help this year not be so bad, and make the world better with a sweater.
Dates for your Diary

Term Dates: https://www.tunbury.kent.sch.uk/Parents/Term-Dates-2020-2021/
Wednesday 25th November 2020 - New Entrants Meeting for next year's Reception (5pm)
Thursday 26th November – Flu vaccinations catch-up for Yellow class NEW
Monday 30th November 2020 - New Entrants Meeting for next year's Reception (5pm)
Friday 11th December: Christmas Jumper Day NEW
Friday 11th December 2020 – Christmas Lunch