Weekly Bulletin:Friday 22nd April 2022
Headteacher's message to parents/carers
Dear Parents/Carers,
Welcome back to the start of the summer terms. We hope that everyone enjoyed a restful holiday, with Easter eggs a-plenty!
This week, we have opened a new area of the school site: The Glade. This is the fenced off woodland area adjacent to the lower playground, which used to be inaccessible and covered in brambles. Over the Easter holidays, we have used TSA funding to have clear the brambles, make the area safe, remove the gate and install new benches. After a competition to find a new name for this area, it has now been named 'The Glade'. Children will now be using The Glade for free play at breaktimes and lunchtimes all year round, giving them a fantastic natural environment to play in, alongside our playgrounds and field.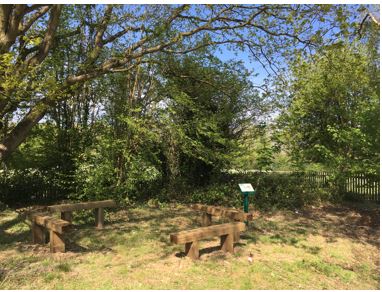 Also this term, we're excited to be offering Forest School sessions for all of our Year 5 and Year 6 children, led by Jo from the Medway Valley Countryside Partnership (MVCP). We had six groups from Year 5 having the first of their weekly sessions this week, where they explored our wonderful Forest School area and had a go at shelter building. Year 5 will continue Forest School until half term, before Year 6 have their sessions in June and July. As well as the MVCP sessions for older children, our Reception classes are also continuing their Forest School sessions this term.
We're also continuing with our new Tiger Troop enrichment program for a group of selected children in Year 3 and 4. This follows on from the success of our first Tiger Troop last term, which was for a group of children in Year 5 and 6. Tiger Troop has a military ethos and focuses on a different core value each week, such as courage, integrity and respect. It was a huge success for our older children last term, so we're looking forward to seeing children in Year 3 and 4 benefit from Tiger Troop this term.
At Tunbury, we are lucky to have beautiful school grounds, so it is lovely to see children making the most of these green spaces in many different ways. From today, we're using the field at lunchtime (weather permitting) and in today's assembly, I gave children a special Friday challenge to see how many daisy chains they can make – my estimate is that our field currently has about 6,000 daisies to pick!
Have a lovely weekend everyone.
Best wishes
Ruth Austin
Headteacher
Notices
New Entrants for September 2022: School places have been offered this week for children starting school in September 2022. Information has been shared with our new parents and is also available on the school website at Tunbury Primary School - New Entrants If you're joining us in September, we can't wait to meet you and your child!
Spring Term attainment updates: These documents are coming home today (in a white A4 envelope for each child). We strive to provide parents/carers with regular, relevant and detailed information about your child's learning, meaning that we communicate with you in this way three times per year. At the end of the Autumn and Spring terms, you receive an attainment update and then at the end of the Summer term, you will receive your child's annual report, including attainment information. We hope that you find this information useful. If you have any queries regarding the attainment updates or your child's learning, please do speak with their class teacher.
Topic Newsletters: The newsletters have been emailed to parents today and are now published on the Year group pages on our website via the Learning tab.
Nut Allergies: Please can we remind you that we have children in school with nut allergies. Nuts are not allowed in school, so please ensure that children's lunch boxes are free of any foods containing nuts. Thank you for your support.
School Crossing Patrol: We are still looking for a School Crossing Patrol (SCP) person to help keep our families safe on their journeys to and from school. If you or someone you know is interested in the position, the online advert is available to view here: https://recruitmenthub.solutions/members/modules/job/detail.php?record=4764
Staffing news: Welcome to Ms Boughton, who has joined our teaching team this week. Ms Boughton is providing maternity cover for Miss Hoile, so she will be teaching Lavender class when Miss Hoile begins her maternity leave in May. We are delighted to welcome Ms Boughton to Tunbury and look forward to working with her.
Team Points: We'll include our first Team Points total for the new term next week.
TSA: Thank you for your donations for Own Clothes day on the last day of last term, £509 was raised, which we donated to DEC Ukraine Humanitarian Appeal.
Covid-19: We continue to ask you to check the current guidance if you experience symptoms or a case of Covid. Further details are at: Coronavirus (COVID-19) - NHS (www.nhs.uk)
Dates for your Diary
Term dates for 2021/22: https://www.tunbury.kent.sch.uk/Parents/Term-Dates-21-22/
Term dates for 2022/23: https://www.tunbury.kent.sch.uk/Term-Dates-22-23/
Please note: although we have planned events for the full academic year, it is possible that future Covid disruption or other factors may result in changes.
Friday 29th April – Parents' information meeting Year 6 – Marchants Hill PGL – 3.30 pm NEW
Monday 2nd May – Bank Holiday – School Closed
Thursday 5th May – Year 3 visit to Living Land, Kent County Showground, Detling
Friday 6th May – TSA Race Night
Monday 9th – Friday 13th May – SATs Week – Year 6
Monday 16th – Friday 27th May – SATs Weeks – Year 2
Friday 27th May – Last day of term 5
Monday 6th June - INSET day (School closed for pupils)
Tuesday 7th June – First day of term 6 for pupils
Monday 13th June – School Health Questionnaire – Year 6
Tuesday 14th / Wednesday 15th June – TSA Father's Day present room
Monday 20th June – New Entrants meeting in school – 3.30 – 4.30 pm NEW
or online 5 - 5.30 pm
Thursday 23rd June – National Writing Day
Monday 27th – Friday 1st July – STEAM Week
Saturday 2nd July – TSA Summer Fair
Monday 4th July – Sports Day (with Reserve Day Friday 8th July)
Friday 15th July – TSA 'Dare to be different' day
Friday 15th July – TSA Family Picnic
Monday 18th July 3.30-4.30pm - SEND Forum with Kent SEND parental support kentiask
Thursday 21st July – Last day of term 6
Class assemblies
We have now resumed our program of class assemblies.
Class assemblies are scheduled to take place in-person, in the school hall, on Friday afternoons. Please come to the front of the school and wait outside the hall entrance doors. You will be invited in at approximately 2.45/2.50 pm. The assembly will begin at around 2.50 pm and last for about 10 minutes, finishing in time for you to collect your children at the end of the school day, as normal.
Please see the re-arranged dates for the five classes who have had assemblies postponed due to Covid disruption. Please note: assemblies for Scarlet, Crimson and Orange classes are on Monday afternoons.
Monday 25th April – Crimson Class Assembly
Friday 29th April – Yellow Class Assembly
Friday 6th May – Lilac Class Assembly
Friday 13th May – Indigo Class Assembly
Friday 20th May – Sapphire Class Assembly
Friday 27th May – Pink Class Assembly
Friday 10th June – Bears Class Assembly
Friday 17th June – Red Class Assembly
Monday 20th June – Orange Class Assembly
Friday 24th June – Hedgehogs Class Assembly
Friday 1st July – Owls Class Assembly
Friday 8th July – Azure Class Assembly
Friday 15th July – Ruby Class Assembly