Weekly Bulletin: Friday 25th June 2021
Headteacher's message to parents/carers
Dear Parents/Carers,
At this time of year, we're looking ahead to September and making plans for children moving up to their new classes. Today, we have told children who their teachers will be in September and which classrooms they are moving up to. This key information is on the Parents tab - Letters and Forms section for you to read. Over the coming weeks, teachers and teaching assistants will be working together on transition and handover to make the move as smooth as possible for our children.
We are also planning a whole-school transition day on Friday 16th July, where children will spend the whole day in their new classrooms. During this day, Year 6 children will have outdoor activities to enjoy on the playground and field, with use of the outdoor classroom and hall if it is wet. On transition day, all children will enter and exit through their normal gates, but they will go straight to their new classrooms to avoid Covid-related mixing of bubbles or cleaning issues. We will provide further guidance and support for children so that they know where to go!
This week, we have had our first positive case of Covid-19 in school since January. Although we very much hope that this is an isolated case, it does remind us all that Covid risks are still present in our school and local environment. Please remain vigilant and observe all relevant Covid-19 guidelines. For example, please can we remind parents/carers to wear face coverings (unless exempt) and maintain social distancing, where possible, at drop-off and pick-up time at the school gates. Thank you for your continued support. Covid guidelines, (including how to contact the school in the event of a positive case for a Tunbury pupil) are in the notices section.
Have a lovely weekend everyone.
Ruth Austin
Headteacher
Our Learning: Year 1
This week year 1 have had some D.T lessons. They have learnt how to create a mechanism. Year 1 began by looking at different mechanisms and how they work. They then designed their own under the sea themed picture with a moving part. After creating their pictures they evaluated their design.
Year 1 have also enjoyed some outdoor learning as part of geography and science.
'We went to find different leaves to tell what trees they are from. It was fun!'- Henry P
In maths we have been learning to recognise coins and notes. We have talked about the value of each coin and made some different amounts using a range of coins.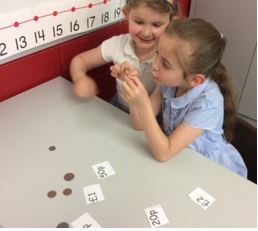 Over the next couple of weeks we will be learning to tell the time to the hour and half past the hour. Please practise telling the time at home!
Here are some links to online games that year 1 have enjoyed playing in maths lessons and own learning time:
https://www.purplemash.com/#app/pup/maths_activities_Y1_measures_money_pairs
https://www.topmarks.co.uk/money/coins-game
https://www.topmarks.co.uk/money/toy-shop-money
https://www.topmarks.co.uk/time/teaching-clock
In English, year 1 have been reading the story 'Sharing a Shell' by Julia Donaldson. Year 1 have written their own alternative ending to the story.
In art we created collages in the style of artist Nancy Standlee. We recreated her famous cupcake collage.
'We got newspapers and tissue paper and we made a cupcake that Nancy Standlee made. I cut and ripped the paper up and then stuck it on.'- Jacob
Notices
Parent/Carer survey: Thank you to everyone who has already taken the time to contribute views via our 2021 parent/carer survey. So far, we have received 205 responses. There is still time to complete the survey, as it is remains open until Monday 28th June via the following link: https://www.surveymonkey.co.uk/r/Tunburyparents2021
Class Photos: On Wednesday next week, 30th June, Tempest Photographers will be in school to take class photos. If you do not want your child to be included in the class photo please will you let the school office know. Unfortunately, as some Year 6 children are isolating due to the positive Covid case, Year 6 class photos will not be taking place on this date – we are trying to reschedule this.
Due to the class photos on Wednesday, please can children in Year 2 come to school dressed in their school uniform and bring their PE kits to school to change into.
Road Crossing Patrol: Unfortunately, our lollypop lady, Clare Dillon, will not be working today and next week so parents will need to take extra care helping their children to cross Tunbury Avenue.
Year 6 residential trip: Our Year 6 children enjoyed an action-packed residential trip to Marchants Hill this week. After all the disruption and missed opportunities of this year, we were so pleased that children were able to have this experience. Children enjoyed raft-building, giant swing, abseiling, trapeze, Jacob's Ladder and archery. A huge thank you to the members of staff who gave their time and enthusiasm on this trip – we couldn't have done it without you!
Delivery of forgotten items reminder: Please try to avoid dropping off forgotten items for the office staff to deliver to your child after the start of the school day. Due to the present Covid-19 'bubble' systems, delivering these items is not nearly as simple as normal! Thank you for your support in this matter - your help is much appreciated.
Accessibility plan: We are currently updating our accessibility plan, which aims to improve access for disabled pupils to our curriculum, information and physical environment. If you would like to make any comments or contributions to our accessibility plan, please let us know via the school office. Thank you.
Staffing news: You will have noticed that some familiar Tunbury names are missing from today's staffing outline for September 2021. We're sorry to be saying goodbye to a number of colleagues at the end of this term: Mr May (moving to a new alternative provision in Medway after nearly 20 years at Tunbury), Miss O'Brien (moving to Dubai), and Miss Frampton, Mrs Black, Miss Carr and Miss Harman (all moving onto new teaching posts at Kent and Medway primary schools). Along with our children, parents and carers, we'll miss you all, but thank you for being part of Team Tunbury!
Additionally, we'll be saying a temporary goodbye to Mrs Seymour in September, as she goes on maternity leave.
Our new teaching staff joining our team in September are Mrs Palmer (our new Phase Leader for Reception and Year 1), Miss Walker, Miss Adams, Mr Mills, Mrs O'Brien and Mr Garner. Children, parents and carers will get to know our new colleagues over the coming months. We're looking forward to welcoming them to our school.
Messages via the school office: The school office staff are receiving a lot of last minute phone calls about changes to adults picking up children at home time. We are happy to accommodate these as a one-off emergency, but ideally prefer you to sort out going home arrangements with your child, in the morning, prior to the start of school. However, if you do need to get a message to the classteacher please email the office at office@tunbury.kent.sch.uk so that we can help.
Thank you from Year 1: we would like to say a huge thank you to Miss Spittles who has worked with us since March. Red Class have thoroughly enjoyed your lessons and will miss you. Miss Spittles' last day with us will be Thursday 1st July. We wish her all the best at her new school!
TSA own clothes day: Thank you for your £1 donations for our recent TSA 'own clothes day' – we raised a massive £541.27.
Team Points: Almost half way through the term, our scores are as follows. Rowling team are now in the lead for the first time this term – well done!
| | | | |
| --- | --- | --- | --- |
| Rowling | Attenborough | Holmes | Hawking |
| 2305 | 2244 | 2195 | 2202 |
Maths Olympics and Sports Week: In the week beginning Monday 5th July, we are having a Maths Olympics and Sports Week.
In Maths Olympics, children will be working on Olympics-themed Maths in their Maths lessons all week: Money Monday, Time Tuesday, Weighing Wednesday, Triangle Thursday and Fraction Friday! Also on Friday, children can wear Maths themed clothes to school, for example wearing clothes with numbers, patterns and shapes. There will be a 'Maths outfit' prize for every year group.
In the same week, children will be taking part in Sports Day activities in their normal PE slots throughout the week. Although we can't hold a 'normal' Sports Day this year, all children will be involved in activities in their class PE lessons to win points for their House Team, with the winners of Sports Week bring announced on Friday once the points have been combined. In this week, children need to wear PE kits on their normal PE days, as usual. Children will compete in their house groups in their own classes, with the three classes from the same year group bubble remaining separate, but taking part in Sports Day activities at the same time. Unfortunately, we are not able to invite parents/carers in to school for these events.
We hope that children will enjoy both of these events.
Covid-19: It is vitally important that nobody with symptoms of Covid-19 should approach or enter the school site.
If you have any of the main symptoms of coronavirus (COVID-19), get a test as soon as possible. Stay at home until you get the result. The main symptoms of coronavirus are:
a high temperature – this means you feel hot to touch on your chest or back (you do not need to measure your temperature)
a new, continuous cough – this means coughing a lot for more than an hour, or 3 or more coughing episodes in 24 hours (if you usually have a cough, it may be worse than usual)
a loss or change to your sense of smell or taste – this means you've noticed you cannot smell or taste anything, or things smell or taste different to normal
Most people with coronavirus have at least 1 of these symptoms. If you have any of the main symptoms of coronavirus:
Get a test to check if you have coronavirus as soon as possible.
You and anyone you live with should stay at home and not have visitors until you get your test result – only leave your home to have a test.
Anyone in your support bubble should also stay at home if you have been in close contact with them since your symptoms started or during the 48 hours before they started.
If you need to inform us of a positive Covid test result for your child, please do so straight away, either by phone (during the working day) or email (in the evenings or weekend) to the school office: 01634 863085 or office@tunbury.kent.sch.uk . In your message, please include the date of symptoms starting, the date of the test and your phone number so that we can contact you.
Entry/Exit procedures: These are unchanged for Term 6 and remain as follows.
| | | | |
| --- | --- | --- | --- |
| Year Group | Entry Time | Collection Time | Gate |
| Year R | 8.35 – 8.45 | 3.05 – 3.15 | Playground gate |
| Year 1 | 8.35 – 8.45 | 3.05 – 3.15 | Front gate |
| Year 2 | 8.45 – 8.55 | 3.15 – 3.25 | Front gate |
| Year 3 | 8.45 – 8.55 | 3.15 – 3.25 | Playground gate |
| Year 4 | 8.35 – 8.45 | 3.05 – 3.15 | Side gate |
| Year 5 | 8.45 – 8.55 | 3.15 – 3.25 | Side gate |
| Year 6 | 8.45 – 8.55 | 3.15 – 3.25 | Side gate |
Dates for your Diary
Term Dates for 2020/21: https://www.tunbury.kent.sch.uk/Parents/Term-Dates-2020-2021/
Term dates for 2021/22: https://www.tunbury.kent.sch.uk/Parents/Term-Dates-21-22/
Monday 28th June – Friday 2nd July – Bikeability Cycle Training for Year 6
Monday 5th July 2021 – Graduoke filming – Year 6 (Please note change of date)
Monday 5th July – Friday 9th July – Maths Olympics and Sports Week – NEW
Friday 9th July – children can wear Maths themed clothes for the end of Maths Olympics week – see notices section for further guidance - NEW
Friday 16th July – Whole school transition day – NEW
Monday 19th July – TSA 'Dare to be different' day – NEW
Wednesday 21st July – last day of Term 6