Weekly Bulletin: Friday 25th September 2020
Headteacher's message
Dear Parents/Carers,
2020 will be remembered for many things…. including the 50th anniversary of the opening of Tunbury Primary School! At the end of the summer term, we held a flag design competition for the Tunbury@50 celebrations. We now have a winner – congratulations to Henry in Violet class, who drew this fabulous design:
We are currently getting Henry's design ready to be turned into a brand new flag for our school flagpole at the front of the school. We'll share a photo of the new flag once it arrives.
As I mentioned last week, we also wanted to share some photos of some of the recent improvements to the school site. Over the summer, work was completed on the Quad area (between the link corridors next to the Year 4,5 and 6 classrooms), which now looks brilliant:
We also created a brand new space for our school Library (outside Ruby class), with new carpet, painted walls (which are not grey!) and newly organised bookshelves and books. Further work is planned in this area, but at the moment it looks like this:
Outdoors, new playground markings were added on all three playground areas. We have a new netball court on the lower playground which will help us to improve our sports offer and play matches against other schools, once this becomes possible. We also have playground markings to keep children active and interested during breaktimes and lunchtimes:
Finally, we have improvements to the school hall, which will have a big impact on you and your children's experience during class assemblies, nativities and performances. We now have a fully functional audio system with speakers and microphones, as well as acoustic panelling which greatly improves the sound quality in what used to a very echo-y space. This is harder to demonstrate in a photo, but here it is:
As parents are not currently invited into school as much as we would like in a 'normal' world, we will include more photos in the weekly bulletin this year. We'll start by including photos and updates from each year group in the 'Our Learning' focus. Please let us know if you have any ideas or suggestions of what else you would like to see in your weekly bulletins, as we aim to please!
Have a lovely weekend everyone.
Best wishes
Ruth Austin
Headteacher
Notices
Covid-19 symptoms: Public Health England have produced a letter for schools to distribute to parents which explains when a person requires a coronavirus test and what the symptoms of coronavirus are. Please see attached. The intention of the letter is to help prevent children being taken out of school unnecessarily and answer some of the questions parents may have around testing.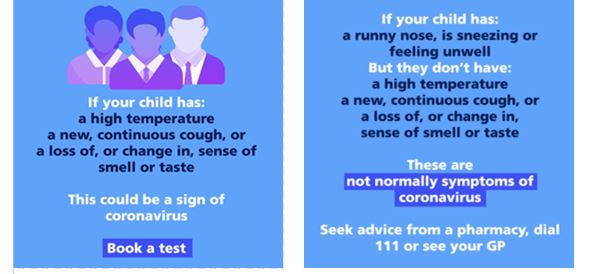 School attendance: As detailed in the attached PHE letter the NHS has produced some guidance to help parents understand when their child can and cannot attend school which you may find useful: https://www.nhs.uk/live-well/healthy-body/is-my-child-too-ill-for-school/ If you do keep your child off school, it is important to let us know by leaving a message on the school's absence line.
House Points: At the end of this week, we have Holmes team still in a narrow lead. Well done Holmes!
| | | | |
| --- | --- | --- | --- |
| Rowling | Attenborough | Holmes | Hawking |
| 1992 | 1956 | 2140 | 2059 |
Delivery of forgotten items: Please try and avoid dropping off forgotten items for the office staff to deliver to your child after the start of the school day. Due to the present Covid-19 'bubble' systems, delivering these items is not nearly as simple as normal! Thank you for your support in this matter - your help is much appreciated.
Messages via the school office: The school office staff are receiving a lot of last minute phone calls about changes to adults picking up children at home time. We are happy to accommodate these as a one-off emergency, but ideally prefer you to sort out going home arrangements with your child, in the morning, prior to the start of school. However, if you do need to get a message to the classteacher please email the office at office@tunbury.kent.sch.uk so that we can help.
Reception Year update: as pick-up has become much smoother, we will revert to your original pick up time slot of 2:55pm – 3:05pm as of Monday (28th September). Please arrive during this time to collect your child. We do need parents/carers off the playground please by 3:05pm as the next year group of children come out. Thank you.
School Crossing Patrol: Clare Dillon, School Crossing Patrol, has asked school to share with you the attached leaflet showing the School Crossing Patrol signals which she uses – it is important that drivers are aware of what these mean, so please take a look.
Parking: We continue to receive complaints from parents and local residents in relation to parking around the school. May we remind you to park with consideration of local residents so that they can access their properties. Please do not park on the pavements as this means that people in wheelchairs and parents with prams and pushchairs cannot get by and have even had to walk in the road! In addition residents have asked that you do not park on grass verges and to not leave your car engines running when parked.
We appreciate the school is placed in the middle of a residential area so parking is particularly difficult. However please help us to ensure the safety of our children and to be a school within a harmonious community. Many thanks in anticipation of your co-operation in this matter.
Starting at Primary School: Do you have a child born between 1st September 2016—31st August 2017? If your child will be 4 years old by 31st August 2021, the time to apply for a primary school is NOW. For parents who live in the Kent local authority, parents can apply online at www.kent.gov.uk/primaryadmissions
For parents who live in the Medway local authority, parents can apply online at https://www.medway.gov.uk/info/200137/schools_and_learning/1059/applying_for_a_primary_school_place.
Applications must be submitted before 15th January 2021.
For children due to start school in reception in September 2021, we are holding a number of virtual new entrants meetings:
Thursday 5th November 2020 9:15am
Monday 16th November 2020 2:00pm
Wednesday 25th November 2020 5:00pm
Monday 30th November 2020 5:00pm
To book a place, please email office@tunbury.kent.sch.uk with your name and the session you are interested in joining. We will then send you a link to join the meeting via Microsoft Teams nearer to the time.
Dates for your Diary
Please note: at present, we are planning for all Autumn term events or meetings with parents and carers to be held online, rather than in person. This will include the Autumn term parent consultation meetings.
Term Dates: https://www.tunbury.kent.sch.uk/Parents/Term-Dates-2020-2021/
Thursday 15th October 2020 – Kent Test
Monday 19th October – Thursday 22nd October 2020 – STEAM Week
Friday 23rd October 2020 – INSET Day
Thursday 5th November 2020 – New Entrants Meeting for next year's Reception (9:15am)
Thursday 5th November 2020 – Parents Evening (3:40pm – 6:20pm)
Tuesday 10th November 2020 – Parents Evening (3:40pm – 6:20pm)
Friday 13th November 2020 – Children In Need
Monday 16th November 2020 – Anti-Bullying Week
Monday 16th November – Flu Vaccinations – NHS NEW
Monday 16th November 2020 - New Entrants Meeting for next year's Reception (2pm)
Wednesday 25th November 2020 - New Entrants Meeting for next year's Reception (5pm)
Monday 30th November 2020 - New Entrants Meeting for next year's Reception (9:15am)
Friday 11th December 2020 – Christmas Lunch