Weekly Bulletin: Friday 26th May 2023
Headteacher's message to parents/carers
Dear Parents/Carers,
This week has been Outdoor Learning week – what a fabulous week we have had!
We are so lucky to have such a fabulous school site with our field, The Glade and our Forest School areas for children to enjoy, and they certainly made the most of this space this week. Every child has spent a significant amount of their learning time outside, engaging in all kinds of activities from Year R observing seasonal change, Year 5 carrying out a water resistance experiment and Year 1 making apple bird feeders.
When asked about Outdoor Learning week, here are some of the things our children said:
What did you see? Woodlice, a robin, worms, logs, twigs, trees, flowers, minibeasts, bushes and birds.
What did you hear? Birds tweeting, squirrels rustling around, the woosh of the breeze in the trees and laughter as we enjoyed ourselves.
How did it make you feel? Calm and relaxed, really happy, free and a sense of togetherness.
Being outdoors is beneficial for us all – great for our mental health and well-being – so we're pleased that children have enjoyed their experiences this week. Thank you to Miss Walker, our Outdoor Learning lead, for organising the week.
Enjoy your half term break everyone. Just a reminder that Monday 5th June is an INSET day, so we look forward to seeing children back in school on Tuesday 6th June.
Best wishes
Ruth Austin
Headteacher
Our Learning: Year 5
Last Friday, Year 5 had a brilliant day at Maidstone Museum, looking at the Egyptian artefacts. We had to work in teams to order the processes involved in preparing a pharaoh for the afterlife. We also had the opportunity to handle some artefacts and decide which actually were over 3000 years old and which were replicas. We were amazed to actually be holding something which was so ancient. Exploring the museum was great, especially when we saw the mummy and sarcophagus of Ta Kush.
In English, we have been writing a story inspired by our recent visit to Maidstone museum, whereby the main character, enters a portal from climbing into sarcophagus, wearing a mask, going through a secret door or touching an artefact. Once on the other side, the character discovers that he has been transported back in time to Ancient Egypt. Whilst there, there is a dilemma which needs solving. On returning back to the present day, the once sulky child has developed a passion for Egyptology and wishes to pursue his dreams in the future.
Our learning journey involved immersing ourselves in the physical features and personality of the character, using the 'story mountain' idea to develop the different sections of our stories, culminating in us writing our finished stories.
In yesterday's outdoor learning day, we were looking at upthrust and weight, exploring how to balance the forces so that we could get some stones to float. Our most successful attempts were making boat shapes out of thin plasticine or tin foil. One of our teams even managed to make over 100 pieces of gravel float at once.
In Forest school, the children were challenged with making dens or building an obstacle course using P.E and forest school equipment. In Indigo class the children created a whole course in 30 minutes. Each group was given an area to create their obstacles. We had a swing, a bridge, hurdles and a slalom.
Finally, we applied our recent learning in Maths about angles to the world around us. We made our own nature angle finders, which we used to help investigate what acute, obtuse and right angles we could find around the grounds of our school.
To continue our angles investigation, children created large pavement shapes using masking tape and chalk. Once the tape was removed to reveal their shape picture, children used their protractor skills to measure the angles on the shapes they created. Have a look at some of our creative designs:

Notices

Transition and Meet the Teacher meetings: After half term, we'll be thinking about transition for children to prepare them for the new academic year in September. We've been reviewing our systems and as a result, we will be taking more time on transition this year. Children will have more contact with their new class teacher before September, for example through occasional story times, as well as the whole school transition day on Thursday July 6th. We're also making a change, to move our 'Meet the Teacher' meetings from September to July, so that parents/carers get all the information they need about the new school year before the summer holidays. The schedule for Meet the Teacher meetings is in the diary dates section below. As usual, all the information will be shared on our website for those who may not be able to attend these meeting dates.
Sports Day: This is on Friday 30th June, running in the same way as last year, which was successful and much enjoyed by children, staff and parents/carers. More details will be shared nearer the time, but the timings are:
KS2 Sports Day 9.50-11.30
Family Picnic 11.45-12.30
FS/KS1 Sports Day 1.00-2.30
Optional early collection 2.45
Parking: Several parents have mentioned road safety concerns recently, with concerns about inconsiderate/unsafe parking and driving around the school site at drop off and pick up times. Every family and child should feel safe and be safe on their journeys to and from school.
Road Crossing Patrol: We do still have a vacancy for a School Crossing Patrol (SCP) to work on Tunbury Avenue - we have been trying to fill this vacancy for some considerable time, with no luck so far. If you know of anyone who could be our new 'Local Hero', please contact KCC as detailed below. While we do not have a SCP, please take extra care around school and please do not park at the crossing point, on double yellow lines or in bus stops. Thank you for your support.
https://recruitmenthub.solutions/members/modules/job/detail.php?record=7877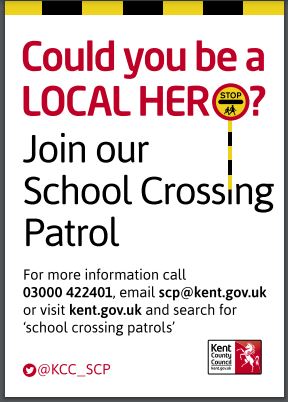 Staff vacancy: We have an advertisement for a Midday Meals Supervisor on Kent teach. If you or anyone you know is interested in this position and would like to join our Team Tunbury please apply online via the following link: https://www.kent-teach.com/Recruitment
TSA Father's Day Present Room: This is a reminder that the TSA Father's Day Present Room will be taking place on Wednesday 7th and Thursday 8th June. Presents are £2.50 each. Please send in any money on the day in a named and labelled envelope.
Weekly Class Attendance: This is a weekly feature on our bulletin to highlight and celebrate good levels of attendance. Bears Class takes the top spot this week for KS1 and Magenta for KS2. Well done!
| | |
| --- | --- |
| Class | Weekly Attendance Percentage |
| Magenta | ☆98.85☆ |
| Scarlet | 97.32 |
| Bears | ☆97.10☆ |
| Amber | 96.93 |
| Blue | 96.89 |
| Ruby | 96.67 |
| Hedgehogs | 96.44 |
| Pink | 96.30 |
| Indigo | 96.30 |
| Violet | 96.30 |
| Lavender | 95.93 |
| Red | 95.56 |
| Yellow | 95.11 |
| Azure | 94.81 |
| Orange | 94.64 |
| Owls | 94.44 |
| Emerald | 93.70 |
| Lilac | 93.10 |
| Turquoise | 92.96 |
| Crimson | 92.22 |
| Sapphire | 91.85 |
Team Points: Holmes are the winners of this term's race! Well done Yellow team. Holmes will have their reward of extra breaktime this afternoon.
| | | | |
| --- | --- | --- | --- |
| Rowling | Attenborough | Holmes | Hawking |
| 5455 | 5358 | 5890 | 5264 |
Dates for your Diary
Summer term Open Afternoons: Just a reminder of the remaining summer term events for each year group. We look forward to sharing children's learning with you!
Year Group

Summer Term event for Parents/Carers

Date

Time

Location

Year R

Cooks and Books

A cookery session based around a text. The parents will come into classes and hear the story with the children then will go into the hall to create some food together, then share. This is a cross curricular event, for PSED (Personal, Social and Emotional Development) areas as well as UTW (Understanding the World)

Tea and coffee available

Wednesday 12th July

2.00pm

Main hall

Year 2

Making Fruit Kebabs
This will be a DT session. The children will be designing and making fruit kebabs. They will be peeling, cutting and threading different fruits onto a kebab stick. A range of exotic fruits will be tasted and the kebabs will be evaluated.

Wednesday 21st June

2.00pm

Classrooms

Year 3

Science investigations – Forces
This will launch our science topic of Forces. We will be investigating friction, air resistance and water resistance.

Thursday 29th June

2.00pm

Main hall or field (dependent on the weather)

Year 4

Survival Shelters

This will be a DT session. The children will be making their own survival shelters that they would have designed in previous lessons. The children will be using pieces of wood and natural materials which they have collected.

Wednesday 12th July 2023

2.00pm

Classrooms

Year 5

Art in the style of Henri Rousseau

Come and join Year 5 as they link their rainforest topic with art work by Rousseau. Prior to your visit the children will have painted the background and mid-ground and this parent visit will culminate in creating the foreground of our rainforest using a multi-media effect.

Monday 10th July

2.00pm

Classrooms

Year 6

Afternoon Tea

This will be an opportunity for parents to join our Year 6 pupils in the hall for an afternoon of celebration. Our Year 6 pupils will be charged with the very important task of making quality scones for all to enjoy- jam, cream, and additional light refreshments (e.g. juice/squash) will also be provided.

Thursday 13th July

2.00pm

Main Hall
Term dates for 2022/23: https://www.tunbury.kent.sch.uk/Term-Dates-22-23/
Friday 26th May – Last day of term 5 for pupils

Monday 5th June - INSET Day – School Closed for pupils

Tuesday 6th June – First day of term 6 for pupils

Tuesday 6th- Friday 9th June – STEAM week

w/c Tuesday 6th June – Year 4 Multiplication Times Tables check
Wednesday 7th & Thursday 8th June – TSA Father's Day Present Room

w/c Monday 12th June – Year 1 Phonics check
Thursday 15th June - Cricket tournament at Wouldham for collaboration schools (Tunbury, Wouldham, Burham and St Peters) NEW
Friday 16th June – TSA Disco for Year R and Year 1 children

Tuesday 20th June - New Entrants meetings in-school 3.30-4.30pm, or online 5.00-5.30pm

Wednesday 21st June – Year 2 Open Afternoon, Making Fruit Kebabs – classrooms 2pm

Thursday 29th June – Year 3 Open Afternoon, Science investigations – Main hall or field 2pm

Friday 30th June – Sports Day – timings NEW
KS2 Sports Day 9.50-11.30
Family Picnic 11.45-12.30
FS/KS1 Sports Day 1.00-2.30
Optional Early collection 2.45

Friday 7th July – Reserve Sports Day

Monday 10th July – Year 5 Open Afternoon, Art in the style of Henri Rousseau – classrooms 2pm

Tuesday 11th July - Meet the Teacher 9:00am Year 2 NEW

Tuesday 11th July - Meet the Teacher 2:30pm Year 6 NEW

Wednesday 12th July - Meet the Teacher 9:00am Year 1 NEW

Wednesday 12th July – Year R Open Afternoon, Cooks and Books – Main hall 2pm

Wednesday 12th July – Year 4 Open Afternoon, Survival Shelters – Classrooms 2pm

Thursday 13th July - Meet the Teacher 9:00am Year 3 NEW

Thursday 13th July – Year 6 Open Afternoon, Afternoon Tea – Main hall 2 pm

Friday 14th July - Meet the Teacher 9:00am Year 4 NEW

Monday 17th July - Meet the Teacher 9:00am Year 5 NEW

Wednesday 19th July – Year 6 Production 2pm and 6:30pm

Friday 21st July – Last day of term/academic year for pupils
Class assemblies
Class assemblies will be held in the school hall on Friday afternoons. Parents/carers and family members from each class are warmly invited to join us in school for these events, as our children love to share their learning with you. Please come to the front of the school and wait outside the hall entrance doors. You will be invited in at approximately 2.45 pm. The assembly will begin at 2.50 pm and last for about 10 minutes, finishing in time for you to collect your children at the end of the school day, as normal.
Friday 26th May Owls Assembly
Friday 16th June Hedgehogs Assembly