Weekly Bulletin: Friday 27th November 2020
Headteacher's message
Dear Parents/Carers,
As we near the end of lockdown, it seems wise to focus on Covid in today's bulletin. So far, we have had 3 separate positive cases of Covid-19 in school: 2 for members of staff and 1 for a child. We thought it might help to explain the steps which we are required to follow when this happens:
We ask everybody to inform us of a positive test result straight away, either by phone (during the working day) or email (in the evenings or weekend) to the school office: 01634 863085 or office@tunbury.kent.sch.uk
We track back to find in-school contacts in the two days prior to symptoms starting. So if someone develops symptoms on Wednesday, has a test on Thursday and receives a positive result on Friday, we are tracking in-school contacts from Monday and Tuesday, if this person was in school on those days.
For every positive case, we go through a risk assessment with the DfE to identify which children or staff will have to isolate. We are sometimes asked why certain children or staff have been asked to self-isolate while others have not - this depends on the individual circumstances of the positive case, making this hard to explain in detail. So far, the movements and contacts of our 3 positive cases have all been very different.
The isolation period for identified contacts is 14 days from the day on which they were in school with the person who has tested positive.
We know now that both Kent and Medway will be within Tier 3 at the end of lockdown, as cases locally are high. To help us keep the virus out of our school, please follow the guidelines. These haven't changed and are summarised at the top of our notices section. It is vitally important that nobody with Covid symptoms should approach or enter the school site. Also, please could we remind you that:
As soon as someone in your family group starts to show Covid symptoms, the whole household should self-isolate immediately.
This means that children should not be attending school if anyone they live with (brothers, sisters, parents etc) are showing Covid symptoms or awaiting the results of a Covid test.
This is important - please follow this advice – it has not changed.
We do know that a very small number of our families haven't been following this advice over the last couple of weeks. This happens when we are informed of a test result in a household, but we also know that children have been attending school while their household member was awaiting their test result.
Please remember that keeping everybody safe is a team effort, requiring us all to work together for the benefit of our children. Thank you for your continued support.
On a lighter note, Christmas is definitely around the corner! We are keen to make Christmas special, if a little different to normal. Children can bring in Christmas cards or gifts for anyone in school, but these will need to be quarantined for 48 hours prior to being handed out. This means that there will not be a whole-school postbox this year, but children can still bring their cards into class. Class teachers will arrange for cards to be quarantined before being handed out, so please explain this to children and don't allow children to hand out cards at the gate or directly to their friends. A similar process will work for any gifts. Please ensure that all cards or gifts are in school by Tuesday 15th December to allow them to be handed out before the end of term. Thank you.
Have a lovely weekend everyone – take care and stay safe.
Best wishes
Ruth Austin
Headteacher
Our learning – Year 6
Our topic is World War 2, we have read Anna at War and are currently reading The Boy in the Striped Pyjamas. We are really enjoying the text so far and have written character descriptions to enhance our understanding.
As well as this, we have developed our knowledge of the history of World War 2 and focused on different key events. We have recently learnt about The Blitz and used this knowledge to create artwork. We used water colours for the background and sketched out a silhouette to show the skyline of London.
Last term in science we investigated many areas linked to World War 2. This included how to preserve food when rationing, how parachutists can ensure a safe landing and how soldiers would have kept water clean through filtration.
This term we are learning all about the heart. So far we have labelled parts of the heart and investigated the function of blood by making our own! To create this, we used: yellow food colouring to represent plasma, red food colouring with cereal hoops for the red blood cells, mini white marshmallows for the white blood cells and purple pompoms for platelets.
Notices
Covid-19: It is vitally important that nobody with symptoms of Covid-19 should approach or enter the school site. Please be aware of the following government advice:
If you have any of the main symptoms of coronavirus (COVID-19), get a test as soon as possible. Stay at home until you get the result. The main symptoms of coronavirus are:
a high temperature – this means you feel hot to touch on your chest or back (you do not need to measure your temperature)
a new, continuous cough – this means coughing a lot for more than an hour, or 3 or more coughing episodes in 24 hours (if you usually have a cough, it may be worse than usual)
a loss or change to your sense of smell or taste – this means you've noticed you cannot smell or taste anything, or things smell or taste different to normal
Most people with coronavirus have at least 1 of these symptoms. If you have any of the main symptoms of coronavirus:
Get a test to check if you have coronavirus as soon as possible.
You and anyone you live with should stay at home and not have visitors until you get your test result – only leave your home to have a test.
Anyone in your support bubble should also stay at home if you have been in close contact with them since your symptoms started or during the 48 hours before they started.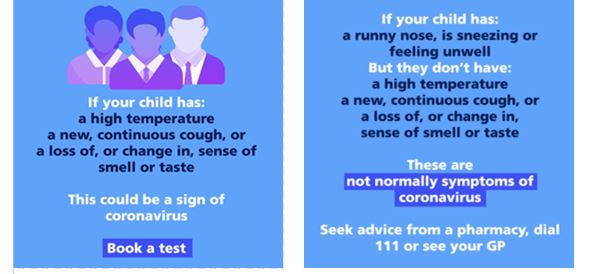 Free School Meals Winter Grant: Please see the details on FSM that were emailed earlier this morning. Families eligible for FSM will receive supermarket vouchers of £15 per week, per child over the Christmas period. To check if you are eligible for free school meals and to make an online application please visit the following website: https://www.cloudforedu.org.uk/ofsm/kent/ If you would like to receive the Christmas vouchers, please sign up for FSM before Monday 30th November.
Admissions for children starting school in September 2021 are now open: Although we cannot welcome visitors into school at the moment, our school website has photos, videos and information for prospective parents at www.tunbury.kent.sch.uk/New-Entrants-2020/ . We have made new videos featuring our Reception staff, Year 6 children and Reception children – please take a look! Also, please share this information with friends or neighbours who may have a child starting school this year.
Applications for a primary school place should be made via your 'home' local authority.
To find out more, please join our final online meeting on Monday 30th November 2020 at 5:00pm. To book a place, please email office@tunbury.kent.sch.uk so that we can send you a link to join the meeting via Microsoft Teams.
We are also aware that this year, parents may have extra questions or concerns about starting school. We are keen to support you with this, so please contact us through the school office with any queries so that we can help.
Dropping off children: Please can we ask that parents do not drive onto the school premises to drop off children in the mornings, even if children are attending breakfast club or early morning teaching sessions. Please park outside school and walk into school.
Team Points: After four weeks of Term 2, Holmes have retained their lead and are currently 253 points ahead of Attenborough. Well done!
| | | | |
| --- | --- | --- | --- |
| Rowling | Attenborough | Holmes | Hawking |
| 2596 | 2630 | 2883 | 2565 |
Christmas Jumper Day: The School Council have agreed to support 'Save The Children, Christmas Jumper Day 2020'. It will be held on Friday 11th December and this will also be the day we have our school Christmas Dinner. We are inviting the children to not only wear their Christmas jumpers, but to be in non-uniform that day too (as 'Christmassy' as possible please!). The children will be involved in Christmas themed learning on this day. We will be requesting a donation of £1 per pupil to go to Save the Children. We would like donations to be made online at: https://www.savethechildren.org.uk/donate Together we will help this year not be so bad, and make the world better with a sweater.
Dates for your Diary

Term Dates: https://www.tunbury.kent.sch.uk/Parents/Term-Dates-2020-2021/
Monday 30th November 2020 - New Entrants Meeting for next year's Reception (5pm)
Friday 11th December: Christmas Jumper Day
Friday 11th December 2020 – Christmas Lunch