Weekly Bulletin: Friday 29th April 2022
Headteacher's message to parents/carers
Dear Parents/Carers,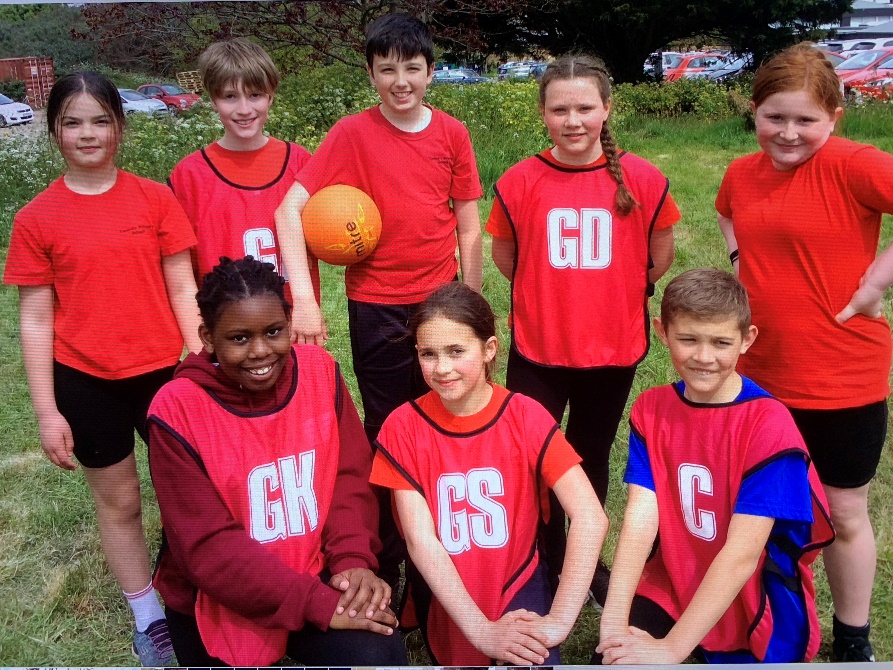 Netball success! Congratulations to our netball team, who took part in the netball Mini Youth Games tournament at Rainham School for Girls yesterday. Congratulations to Rebecca, Tom, Charlie, Jacob, Rufaro, Lexi, Willow and Grace. The team played 8 matches in total across the day, playing incredibly well and working hard as a team. They showed fantastic sportsmanship by cheering their peers on, as well as celebrating the successes of the opposing teams. Thank you to Miss Sibborn and Mr Kent for coaching the team throughout the day. We're extremely proud of our team, who played exceptionally well and were placed 5th out of the 28 schools attending. Fabulous work – well done Team Tunbury!
These were the first inter-school sports matches that we have participated in since the start of Covid disruption. It's a pleasure to return to this part of 'normal' school life! We look forward to taking part in the Mini Youth Games for athletics and football later this term, as well as many more opportunities next year too.
Also this week, we have seen the start of this term's class visits to Walderslade village library. So far, Amber, Sapphire, Lilac and Turquoise classes have walked down to the village library to enjoy browsing the books, as well as using their library cards to take books home. Our aim is to encourage all Tunbury children to be avid readers through supporting them to find and enjoy a wide range of books. Please help us by talking to your child about books and reading, as well as visiting the village library if you can.
Enjoy a lovely long weekend everyone – don't forget that Monday is a bank holiday, so we will see children back in school on Tuesday 3rd May.
Best wishes
Ruth Austin
Headteacher
Notices
School Crossing Patrol: So far, we have not received any applications for our SCP role. We are still looking for a new SCP to help keep our families safe on their journeys to and from school. If you or someone you know is interested in the position, please encourage them to enquire or apply for the role. The online advert is available at: https://recruitmenthub.solutions/members/modules/job/detail.php?record=4764
TSA Race Night: It's the final few days to buy tickets for the TSA Race Night! This is taking place next Friday, 6th May. Please see attached flyer for more details and how to purchase tickets.
Team Points: Our first Team Points total for the new term is as follows. After the award of Golden Team Points in each class, our totals are already very high across the board, over 2000 in each team already. Rowling team are in an early lead – well done!

Supervision of younger children at pick up time: Please can we ask parents/carers of our younger children (Reception, Y1 and Y2) to keep their children with them when waiting for older siblings to come out. Many of the younger children are running about and going on the banks and climbing equipment. It is a busy time and place and we do not want anyone to get hurt, so please keep your children with you. The younger children do not use the top playground or the climbing equipment on there as it is specifically designed for junior age children, so they are not familiar with playing on it. It is also worth us sharing with you that we do not let children on the banks during the school day and it would be helpful if parents/carers upheld this for us afterschool also. Finally, the new Glade area on the lower playground has some brambles remaining for wildlife and again, this is not a space for children to play in afterschool please. Thank you for your support with this.
Music lessons: As part of the development of music provision at Tunbury School, The Math Music Academy provides both individual singing and keyboard lessons. The Department of Education has recognised that singing improves a child's learning, confidence, concentration and social development. Further studies have also concluded that students who studied a musical instrument such as piano in primary school were almost one year ahead of their non musically trained peers in their Maths, Science and English performance.
The Math Music Academy will be holding free 15 minute trial sessions week of the 20th June for interested pupils wishing to commence lessons in September. During these trial lessons for singing, the teacher will do basic exercises, note recognition and some repertoire and for piano the introduction to the keyboard and basic fingering. Students have the opportunity to work towards school performances and concerts as well as graded examinations with both ABRSM and Trinity boards.
A detailed risk assessment has been put in place to ensure that music lessons are Covid safe, including:
A large fully ventilated room

All music displayed on a sanitised screen

The room and equipment sanitised after each pupil.
Please email our singing teacher, Mrs Sophie Hyde, on sophiehyde@aol.com to register for a free trial, giving your child's name and class.
Covid-19: We continue to ask you to check the current guidance if you experience symptoms or a case of Covid. Further details are at: Coronavirus (COVID-19) - NHS (www.nhs.uk)
Dates for your Diary
Term dates for 2021/22: https://www.tunbury.kent.sch.uk/Parents/Term-Dates-21-22/
Term dates for 2022/23: https://www.tunbury.kent.sch.uk/Term-Dates-22-23/
Please note: although we have planned events for the full academic year, it is possible that future Covid disruption or other factors may result in changes.
Friday 29th April – Parents' information meeting Year 5 – Marchants Hill PGL – 3.30 pm
Monday 2nd May – Bank Holiday – School Closed
Thursday 5th May – Year 3 visit to Living Land, Kent County Showground, Detling
Friday 6th May – TSA Race Night
Monday 9th – Friday 13th May – SATs Week – Year 6
Monday 16th – Friday 27th May – SATs Weeks – Year 2
Friday 27th May – Last day of term 5
Monday 6th June - INSET day (School closed for pupils)
Tuesday 7th June – First day of term 6 for pupils
Monday 13th June – School Health Questionnaire – Year 6
Tuesday 14th / Wednesday 15th June – TSA Father's Day present room
Monday 20th June – New Entrants meeting in school – 3.30 – 4.30 pm
or online 5 - 5.30 pm
Thursday 23rd June – National Writing Day
Monday 27th – Friday 1st July – STEAM Week
Saturday 2nd July – TSA Summer Fair
Monday 4th July – Sports Day (with Reserve Day Friday 8th July)
Friday 15th July – TSA 'Dare to be different' day
Friday 15th July – TSA Family Picnic
Monday 18th July 3.30-4.30pm - SEND Forum with Kent SEND parental support kentiask
Thursday 21st July – Last day of term 6
Class assemblies
We have now resumed our program of class assemblies.
Class assemblies are scheduled to take place in-person, in the school hall, on Friday afternoons. Please come to the front of the school and wait outside the hall entrance doors. You will be invited in at approximately 2.45/2.50 pm. The assembly will begin at around 2.50 pm and last for about 10 minutes, finishing in time for you to collect your children at the end of the school day, as normal.
Please note: the assembly for Orange class is on a Monday.
Friday 29th April – Yellow Class Assembly
Friday 6th May – Lilac Class Assembly
Friday 13th May – Indigo Class Assembly
Friday 20th May – Sapphire Class Assembly
Friday 27th May – Pink Class Assembly
Friday 10th June – Bears Class Assembly
Friday 17th June – Red Class Assembly
Monday 20th June – Orange Class Assembly
Friday 24th June – Hedgehogs Class Assembly
Friday 1st July – Owls Class Assembly
Friday 8th July – Azure Class Assembly
Friday 15th July – Ruby Class Assembly