Weekly Bulletin: Friday 2nd October 2020
Headteacher's message
Dear Parents/Carers,
Could you live without technology? On Wednesday we had a tech-free day in school – although this was planned so that our IT technician could run updates on all the classroom computers, it had other benefits too. While children were initially a little surprised to be doing things the 'old fashioned' way, I think everyone actually enjoyed the change of pace! We saw lots of creative and artistic work going on around school, including some very sticky salt-dough creations in Year 3. We continue to impressed by our children's wonderful enthusiasm and imagination – well done everyone!
In our assemblies, we have been looking for different ways for children to interact with each other as whole classes, via video conferencing. One communication tool which we have been exploring is signing. Children have created their own signs for the three school values (thriving, proactive and solidarity) – why not ask your child to share these with you?
Finally, children are still coping well with the Covid-19 adjustments in school, so it's still worth mentioning how much we do appreciate your continued support to work within the current guidelines. For example, thank you for arriving on time for your 10-minute entry and exit window for each year group. Also, thank you for not gathering at the gates – we have noticed that family groups are leaving the area of school more quickly, which is important. Although we have had a few colds/runny noses in school, attendance remains very high, so thank you for following the advice on absences (in the notices section below). Overall, as a school community we have now adjusted to the 'new normal', but we do need to remain vigilant in order to keep our children, staff and families safe.
Have a lovely weekend everyone – take care and stay safe.
Best wishes
Ruth Austin
Headteacher
Our learning
The 'our learning' feature will return to our weekly bulletin next week, starting with photos and a learning update from Year 4.
Notices
Covid-19 symptoms: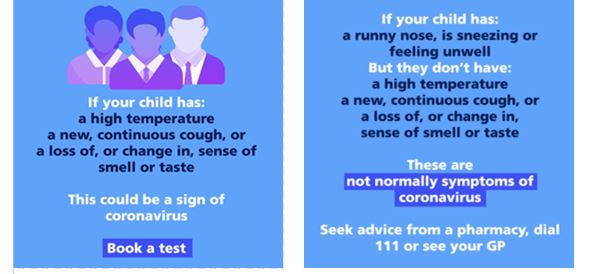 Please read this letter from Public Health England for further guidance: www.tunbury.kent.sch.uk/docs/letters/23rd_September_-_PHE_letter_to_parents_and_guardians.pdf
Year 4: On Friday 16 October Year 4 will be having a Roman day as a culmination of this term's topic. If they wish children in Year 4 can dress up as anything connected with the Romans (home-made are just as good as bought). For children who don't want to dress up please come to school in uniform as usual. As part of the day Year 4 children will be making a clay sculpture so you may wish to bear this in mind when choosing their costume!
HLTA vacancy: We have just advertised a vacancy for a Higher Level Teaching Assistant to join our team. Details can be found at www.kent-teach.com/Recruitment/Vacancy/VacancyDetails.aspx?VacancyId=82676
House Points: At the end of this week, Hawking team is in the lead. Well done Hawking!
| | | | |
| --- | --- | --- | --- |
| Rowling | Attenborough | Holmes | Hawking |
| 2821 | 2808 | 2902 | 2932 |
Flu Vaccinations – Monday 16th November (all year groups): https://www.tunbury.kent.sch.uk/docs/letters/Flu_Invite_letter_V4-_FINAL_-_2020_programme.pdf This letter provides details to enable you to go online to complete your child's nasal flu vaccine consent form. PLEASE NOTE: The e-consent portal closes on 11/11/2020, 3 working days before our schools immunisation session and the immunisation team cannot accept late consents or consents on the day of vaccination.
If any parents are having issues completing the online consent form, please call the immunisation team hub on 0300 123 5205 or their local Medway office on 01634 337 666 and they will be able to go through the consent form with you over the phone.
Starting at Primary School: Do you have a child born between 1st September 2016—31st August 2017?
If your child will be 4 years old by 31st August 2021, you can apply for your primary school place now. For parents who live in the Kent local authority, parents can apply online at www.kent.gov.uk/primaryadmissions
For parents who live in the Medway local authority, parents can apply online at https://www.medway.gov.uk/info/200137/schools_and_learning/1059/applying_for_a_primary_school_place.
Applications must be submitted before 15th January 2021.
For children due to start school in reception in September 2021, we are holding a number of virtual new entrants meetings:
Thursday 5th November 2020 9:15am
Monday 16th November 2020 2:00pm
Wednesday 25th November 2020 5:00pm
Monday 30th November 2020 5:00pm

To book a place, please email office@tunbury.kent.sch.uk with your name and the session you are interested in joining. We will then send you a link to join the meeting via Microsoft Teams nearer to the time.
Dates for your Diary
Please note: at present, we are planning for all Autumn term events or meetings with parents and carers to be held online, rather than in person. This will include the Autumn term parent consultation meetings.
Term Dates: https://www.tunbury.kent.sch.uk/Parents/Term-Dates-2020-2021/
Thursday 15th October 2020 – Kent Test
Friday 16th October – Year 4 Roman Day NEW
Monday 19th October – Thursday 22nd October 2020 – STEAM Week
Friday 23rd October 2020 – INSET Day
Thursday 5th November 2020 – New Entrants Meeting for next year's Reception (9:15am)
Thursday 5th November 2020 – Parents Evening (3:40pm – 6:20pm)
Tuesday 10th November 2020 – Parents Evening (3:40pm – 6:20pm)
Friday 13th November 2020 – Children In Need
Monday 16th November 2020 – Anti-Bullying Week
Monday 16th November – Flu Vaccinations – NHS
Monday 16th November 2020 - New Entrants Meeting for next year's Reception (2pm)
Wednesday 25th November 2020 - New Entrants Meeting for next year's Reception (5pm)
Monday 30th November 2020 - New Entrants Meeting for next year's Reception (9:15am)
Friday 11th December 2020 – Christmas Lunch