Weekly Bulletin: Friday 4th December 2020
Headteacher's message
Dear Parents/Carers,
I would like to start today's bulletin by saying a huge thank you to our wonderful staff team. Throughout the year, our teachers and teaching assistants have been absolutely fantastic: enthusiastic, dedicated, supportive and endlessly adaptable. Their enthusiasm for learning means that Tunbury classrooms are special places for our children to learn: places where they feel at home, and where they are safe, supported and encouraged. I visited our Reception classes this week and saw so much enthusiasm and pride in learning, from both the children and the staff! Although many aspects of school life are different this year, it's reassuring to know that school life is relatively 'normal' once children are in their classrooms with their teachers and teaching assistants. We are proud of how far our children have come since returning to school in September - teachers are currently completing their assessments, which will be shared with you at the end of term as normal.
This week, our countdown to Christmas has begun with the start of Advent. Our classrooms are already looking Christmassy and we're looking ahead to Christmas events to come.
Next Friday 11th December is Christmas jumper day and school Christmas lunch – see the notices section for further details.
In the last week of term, our TSA has kindly funded Christmas shows for all of our children, with an online puppet show for Reception, Year 1 and Year 2 and an online pantomime performance for Years 3-6.
On the last day of term, Friday 18th December, classes will be holding their class Christmas parties, so all children can come to school dressed in their own clothes/party clothes for the day.
You may remember that during anti-bullying week, children were learning a signing version of the song 'Reach out your hand.' We are now ready to share this video, so please take a look at https://www.tunbury.kent.sch.uk/News/
Have a lovely weekend everyone.
Best wishes
Ruth Austin
Headteacher
Notices
Covid-19: It is vitally important that nobody with symptoms of Covid-19 should approach or enter the school site. Please be aware of the following government advice:
If you have any of the main symptoms of coronavirus (COVID-19), get a test as soon as possible. Stay at home until you get the result. The main symptoms of coronavirus are:
a high temperature – this means you feel hot to touch on your chest or back (you do not need to measure your temperature)
a new, continuous cough – this means coughing a lot for more than an hour, or 3 or more coughing episodes in 24 hours (if you usually have a cough, it may be worse than usual)
a loss or change to your sense of smell or taste – this means you've noticed you cannot smell or taste anything, or things smell or taste different to normal

Most people with coronavirus have at least 1 of these symptoms. If you have any of the main symptoms of coronavirus:
Get a test to check if you have coronavirus as soon as possible.
You and anyone you live with should stay at home and not have visitors until you get your test result – only leave your home to have a test.
Anyone in your support bubble should also stay at home if you have been in close contact with them since your symptoms started or during the 48 hours before they started.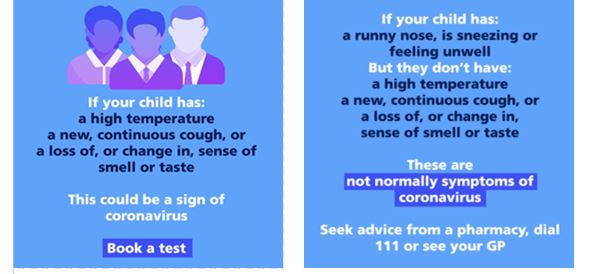 Christmas Jumper Day: The School Council have agreed to support 'Save The Children, Christmas Jumper Day 2020'. It will be held on Friday 11th December and this will also be the day we have our school Christmas Dinner. We are inviting the children to not only wear their Christmas jumpers, but to be in non-uniform that day too (as 'Christmassy' as possible please!). The children will be involved in Christmas themed learning on this day. We will be requesting a donation of £1 per pupil to go to Save the Children. We would like donations to be made online at: https://www.savethechildren.org.uk/donate Together we will help this year not be so bad, and make the world better with a sweater.
Christmas Lunch: This will be served on Friday 11th December. For pupils in Years 3, 4, 5 and 6 please send in the £2.20 payment either in a named envelope via the classteacher or by parentmail preferably on Monday 7th December. (Pupils in Years R, 1, 2 are in receipt of Universal Free meals so do not need to pay). Please note Fish and Chips, usually served on Fridays, will be served on Wednesday 9th December.
Team Points: With two weeks to go, Holmes are just holding onto their lead, although Attenborough are catching them up!
| | | | |
| --- | --- | --- | --- |
| Rowling | Attenborough | Holmes | Hawking |
| 3301 | 3526 | 3612 | 3285 |
Severe Snow/Ice Plan for Parents and Families: Every winter brings the possibility of snow and ice. Extreme bad weather can cause widespread and prolonged disruption. Please visit the school website for our severe weather guidance: https://www.tunbury.kent.sch.uk/Parents/Severe-Weather
Dates for your Diary

Term Dates: https://www.tunbury.kent.sch.uk/Parents/Term-Dates-2020-2021/
Friday 11th December: Christmas Jumper Day
Friday 11th December 2020 – Christmas Lunch
Monday 14th December - Year 6 World War 2 Day NEW
Friday 18th December – end of Term 2
Monday 4th January – INSET DAY – no children in school
Tuesday 5th January – children return to school for the start of Term 3