Weekly Bulletin: Friday 6th May 2022
Headteacher's message to parents/carers
Dear Parents/Carers,
What a brilliant day for Year 3 at the 'Living Land' event at Detling showground yesterday. With many different schools attending, I'm very proud to say that our Tunbury superstars showed fantastic politeness, respect and interest throughout the day. I'm also told that the dancing sheep were something to behold! Well done Year 3 and thank you to our staff and parent volunteers for making this day possible.
Also this week, our Team Tunbury Teachers have been working closely with colleagues from other local schools. Yesterday, we held a joint staff meeting at Tunbury with the teaching staff from Wouldham Primary School, where our leaders of different curriculum areas got together to discuss their subjects. Both schools shared their approach to the curriculum, as well as plenty of good ideas and top tips. You can find out more about the Tunbury curriculum at Tunbury Primary School - Curriculum. As well as Wouldham, we are also working with Tunstall Primary School – this week, Mrs Palmer, our Year R/1 Phase Leader, welcomed the Tunstall Year R/1 Phase Leader to visit us. She was impressed by the impeccable behaviour and positivity of our Tunbury learners, as well as the rich learning environments seen throughout our Year R and Year 1 classes. It's always lovely to receive positive feedback from visitors and this was a reminder of just how hardworking and wonderful our Tunbury teachers and teaching assistants are – thank you for making our school thrive.
Have a lovely weekend everyone.
Best wishes
Ruth Austin
Headteacher
Governor update
You may recall that in January, Steve Nairn, our Chair of Governors contributed to the weekly bulletin. This time it is my turn to introduce myself. I am Jennie Harwood and have been a parent governor since June 2019.
I am an ex-pupil of Tunbury Primary School and very passionate about the school and its future. I am honoured to have been elected and try to use skills, experience and knowledge from my day job and other interests to support Tunbury.
I am part of a trio of governors who review the schools financial position, I also review the 'curriculum intent and implementation' and quality of education' elements of the school improvement plan with fellow governors and I lead on governor training and development.
I am in awe of the great work the staff at Tunbury are undertaking and feel really listened to when asking why certain things are done in such a way or suggesting new ideas.
I hope that by introducing myself and role I undertake as a governor helps you to understand more about the role and should future opportunities arise you may also consider joining us.
Our learning – Year 3
This term, we are learning about the Ancient Maya. Using our class time lines, we have linked this topic to our previous history topics, making some comparisons with the Anglo Saxons. We have used atlases to find out where the Ancient Maya lived and can talk about what the countries are called now. We were surprised by how much of Central America was inhabited by the Ancient Maya and impressed by the huge temples they built in the middle of a rainforest.
Our English lessons have linked to our topic, using the book The Chocolate Tree as a stimulus for our writing. This week, we have been punctuating direct speech and using this to write a conversation about the two Mayan gods from our story.
In maths, we have continued our work on fractions, learning the difference between unit and non-unit fractions. We will be moving on to finding fractions of amounts and fractions as decimals.
Cricket and hockey are the sports we are learning in PE. So far, the children have been practising their bowling and fielding skills in cricket and their dribbling and passing skills in hockey.
The highlight of Term 5 so far has been our trip to Living Land at Detling Showground. It was a fun packed day, watching a sheep shearing show and we were lucky enough to see some dancing sheep! The children also enjoyed tasting some wonderful produce from local farms and getting up close to some local farm animals. This will help us to make comparisons to farming across the world next term. We were so lucky with the weather.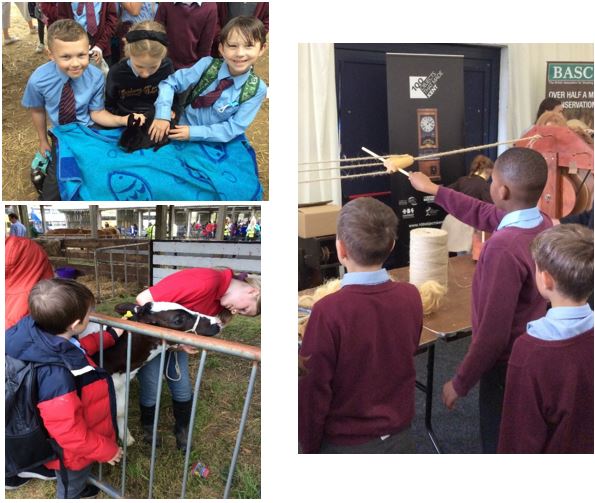 Notices
School Crossing Patrol: We have still not received any applications for our SCP role. If you or someone you know is interested in the position, please encourage them to enquire or apply for the role. The online advert is available at: https://recruitmenthub.solutions/members/modules/job/detail.php?record=4764
Team Points: This week, Rowling are still in the lead, but with a difference of only 90 points between our 1st and 4th placed teams, it is very close…
Covid-19: We continue to ask you to check the current guidance if you experience symptoms or a case of Covid. Further details are at: Coronavirus (COVID-19) - NHS (www.nhs.uk)
Dates for your Diary
Term dates for 2021/22: https://www.tunbury.kent.sch.uk/Parents/Term-Dates-21-22/
Term dates for 2022/23: https://www.tunbury.kent.sch.uk/Term-Dates-22-23/
Please note: although we have planned events for the full academic year, it is possible that future Covid disruption or other factors may result in changes.
Monday 9th – Friday 13th May – SATs Week – Year 6
Monday 16th – Friday 27th May – SATs Weeks – Year 2
Friday 27th May – Last day of term 5
Monday 6th June - INSET day (School closed for pupils)
Tuesday 7th June – First day of term 6 for pupils
Monday 13th June – School Health Questionnaire – Year 6
Tuesday 14th / Wednesday 15th June – TSA Father's Day present room
Monday 20th June – New Entrants meeting in school – 3.30 – 4.30 pm
or online 5 - 5.30 pm
Thursday 23rd June – National Writing Day
Monday 27th – Friday 1st July – STEAM Week
Saturday 2nd July – TSA Summer Fair
Monday 4th July – Sports Day (with Reserve Day Friday 8th July)
Friday 15th July – TSA 'Dare to be different' day
Friday 15th July – TSA Family Picnic
Monday 18th July 3.30-4.30pm - SEND Forum with Kent SEND parental support kentiask
Thursday 21st July – Last day of term 6
Class assemblies
We have now resumed our program of class assemblies.
Class assemblies are scheduled to take place in-person, in the school hall, on Friday afternoons. Please come to the front of the school and wait outside the hall entrance doors. You will be invited in at approximately 2.45/2.50 pm. The assembly will begin at around 2.50 pm and last for about 10 minutes, finishing in time for you to collect your children at the end of the school day, as normal.
Please note: the assembly for Orange class is on a Monday.
Friday 6th May – Lilac Class Assembly
Friday 13th May – Indigo Class Assembly
Friday 20th May – Sapphire Class Assembly
Friday 27th May – Pink Class Assembly
Friday 10th June – Bears Class Assembly
Friday 17th June – Red Class Assembly
Monday 20th June – Orange Class Assembly
Friday 24th June – Hedgehogs Class Assembly
Friday 1st July – Owls Class Assembly
Friday 8th July – Azure Class Assembly
Friday 15th July – Ruby Class Assembly