Weekly Bulletin: Friday 6th November 2020
Headteacher's message
Dear Parents/Carers,
Welcome back for the start of Term 2! Although it may now seem a distant memory, we hope that all of our families enjoyed a restful half-term break.
As we enter a new national lockdown, our school remains open as normal. We're working hard to maintain a sense of safety and consistency within school so that our children's learning proceeds as smoothly as possible and their well-being remains high. Thank you for your continued support during this time – more than ever, our sense of community is so important. This was typified by the instant and positive response to our request for you to wear face coverings at school drop-off and pick-up times – thank you.
Thank you for your participation in our first online Parents' Evening consultations yesterday. Our teachers are always dedicated, hardworking and professional, but throughout the pandemic they have risen to every challenge presented to them - so an online parents' evening was yet another 'first' taken in their stride. We're all getting used to speaking online, rather than face-to-face, and we do hope that these meetings were just as successful as normal. We also hope that receiving your children's books at home allowed you to talk to them about their learning and celebrate their achievements so far this year.
Today, we held our online Harvest Festival assembly and we were joined by our local minister, Reverend Stephen Roe. Reverend Roe helped children to reflect on giving thanks for the food that we receive and feeling privileged and grateful, even during these difficult times.
Finally, you may remember that before half term we held our STEAM week, including our Tunbury@50 Ball Run challenge. Similar to (but smaller than) great engineering achievements such as the Channel Tunnel, Forth Bridge or Hoover Dam, our challenge was for different year groups to construct a ball run to take a single ball from the top of the top playground to the bottom of the bottom playground. The good news is that we made it! You can see the results in our video, now published at www.tunbury.kent.sch.uk/News/
Have a lovely weekend everyone.
Best wishes
Ruth Austin
Headteacher
Our learning - Reception
Year R have had an amazing start to their first year of school! Last term we enjoyed getting to know one another, making new friendships and learning all about our new school! We spent lots of time discussing and sharing our emotions and used stories to help us understand them better. We made Books of Emotions inspired by the Colour Monster where we drew things that made us feel sad, happy, nervous/excited and angry. We had pictures of jars that we filled up with happy things and also explored sharing our feelings through art using shapes and colours. As a surprise for our grownups we painted self-portraits on canvases and even made some yummy cakes to take home at the end of term!
For our first week back this term we have been learning about Bonfire night! We have acted out the story of Guy Fawkes and King James I, finding out why we celebrate the 5th November with fireworks. We have been making firework art using a variety of media such as paint, chalk and shaving foam! In our phonics we have started learning our Phase 2 sounds starting with s, a, t and p, practising writing them and listening for the sounds in words. In Maths we have been exploring the number 1, learning where we might see it in the world around us, practising writing it, showing 1 in different ways and even learning about circles – a one sided shape!
We can't wait to continue our learning this term. We will be continuing with celebrations discovering all about Diwali and ending with Christmas! In Phonics we will be continuing with Phase 2 learning lots more sounds and beginning to read and write words for ourselves! In Maths we will be learning about numbers 2, 3, 4 and 5 and investigating more and less.
Notices
Admissions for children starting school in September 2021 are now open. Although we cannot welcome visitors into school at the moment, our school website has photos, videos and information for prospective parents at www.tunbury.kent.sch.uk/New-Entrants-2020/ . We have made new videos featuring our Reception staff, Year 6 children and Reception children – please take a look! Also, please share this information with friends or neighbours who may have a child starting school this year.
Applications for a primary school place should be made via your 'home' local authority.
At Tunbury, we held our first virtual New Entrants meeting this week and have three more online meetings planned:
Monday 16th November 2020 2:00pm
Wednesday 25th November 2020 5:00pm
Monday 30th November 2020 5:00pm
To book a place, please email office@tunbury.kent.sch.uk with your name and the session you are interested in joining. We will then send you a link to join the meeting via Microsoft Teams nearer to the time.
We are also aware that this year, parents may have extra questions or concerns about starting school. We are keen to support you with this, so please contact us through the school office with any queries so that we can help.
TSA Christmas Cards: This year, our fundraising total from the Christmas Cards is £1151 – a huge increase on last year! As our fundraising opportunities are now very limited, we do particularly appreciate your support– thank you very much.
Delivery of forgotten items reminder: Please try and avoid dropping off forgotten items for the office staff to deliver to your child after the start of the school day. Due to the present Covid-19 'bubble' systems, delivering these items is not nearly as simple as normal! Thank you for your support in this matter - your help is much appreciated.
Message from the NHS Immunisation Team - there is still time to complete the online consent form for your child to receive their nasal flu vaccination.
Please click here and enter our school URN which is: 118493. The online portal will close at midnight on 11.11.2020, and no late forms can be accepted after this date.
Someone from the immunisation team may call you to discuss the online consent process if they do not hear from you.
Watch this short film to find out what happens at a nasal flu clinic. What is the nasal flu vaccine? Show your child this short film to help them understand the nasal flu vaccine What should I say to my child?
School Crossing Patrol: Clare Dillon, School Crossing Patrol has unfortunately been absent from her post this week and will be absent again next week. Please ensure that children take extra care when crossing the road before and after school.
Vacancy for a co-opted governor: Please read the advert in the letters and forms section regarding a vacancy for a co-opted governor on the Tunbury Governing Body.
Team Points: We'll start our Term 2 total for Team Points in next Friday's bulletin.

Children in Need: We would like to continue to support this National charity event. So this year, the children (and staff) can come to school wearing their own clothes on Friday 13th November 2020 but in their house team colour please. We are unable to collect donations ourselves therefore we ask that you make your donation directly to Children in Need either by phone or online. https://donate.bbcchildreninneed.co.uk/
Covid-19 symptoms: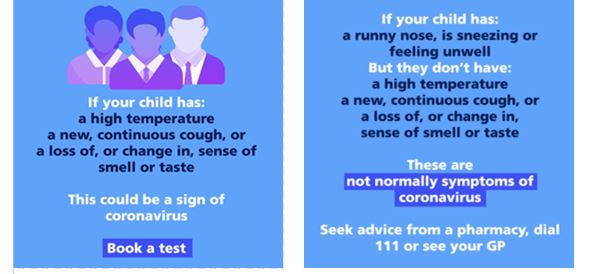 Dates for your Diary
Term Dates: https://www.tunbury.kent.sch.uk/Parents/Term-Dates-2020-2021/
Tuesday 10th November 2020 – Parents Evening (3:40pm – 6:20pm)
Friday 13th November 2020 – Children In Need – wear house colours
Monday 16th November 2020 – Anti-Bullying Week, starting with Odd Socks day
Monday 16th November – Flu Vaccinations – NHS
Monday 16th November 2020 - New Entrants Meeting for next year's Reception (2pm)
Wednesday 25th November 2020 - New Entrants Meeting for next year's Reception (5pm)
Monday 30th November 2020 - New Entrants Meeting for next year's Reception (5pm)
Friday 11th December 2020 – Christmas Lunch