Weekly Bulletin: Friday 9th October 2020
Headteacher's message
Dear Parents/Carers,
So far this term, I have been mainly at the Year 1 and 2 gate at the front of school in the mornings, welcoming children into school. It's a pleasure to see so many smiley faces saying a cheery 'Good Morning' every day on their way in. We even have our future Tunbury learners (pre-school siblings currently aged 2-3) joining in - great work already!
It's also a pleasure to see so many parents and carers taking a keen interest in their children's education. Any support that you can offer your children at home will make a massive difference to their learning. As we all know, education is a partnership between school and home. Parents sometimes ask me what they can do to help, and there are so many different pieces of advice that I could share.... but here are my top three top tips:
Read to your child and encourage your child to read to you - reading is by far the most powerful thing that you can do.
Celebrate your child's efforts and attitude to school and learning, especially when something is tricky.
Tell your child that you are proud of them, and let them hear you praise them to others, building positivity and self-esteem - it's good for all of us!
If you would like to know more, this video has some good tips for supporting learning at home for younger children: https://www.bbc.co.uk/bitesize/articles/zj6yt39 . Also, this page has some suggestions for how we can approach reading at home: https://www.bbc.co.uk/bitesize/articles/zbxby9q . However, remember that whatever you do at home to support your child, it will make a difference - thank you!
Have a lovely weekend everyone.
Best wishes
Ruth Austin
Headteacher
Our learning
This week's Our Learning update is from Year 4.
Notices
Covid-19 symptoms: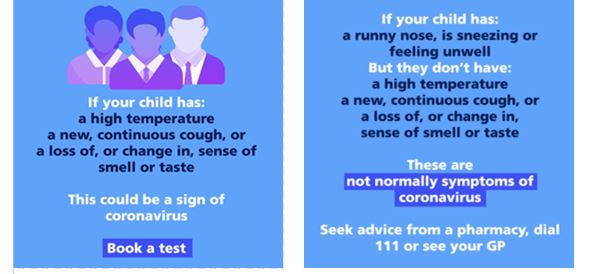 Please read this letter from Public Health England for further guidance: www.tunbury.kent.sch.uk/docs/letters/23rd_September_-_PHE_letter_to_parents_and_guardians.pdf
Parent/teacher communication: If you need to get a message to your child's teacher, you can send in a message with your child. In Reception and Year 1, Tapestry can also be used for communication. In years 2-6, please email the school office at office@tunbury.kent.sch.uk so that the email can be forwarded on (although please remember that teachers won't read or respond to emails during the teaching day). Thank you.
TSA Christmas cards: Thank you for supporting the TSA through the Christmas cards. With limited fundraising opportunities, this is especially important this year. The green collection boxes for your Christmas card envelopes will be at all three gates in the mornings from Monday – Friday next week.
HLTA vacancy: We have a vacancy for a Higher Level Teaching Assistant to join our team. Details are at www.kent-teach.com/Recruitment/Vacancy/VacancyDetails.aspx?VacancyId=82676
TA vacancy: We're also looking for a new Teaching Assistant. Details are at https://www.kent-teach.com/Recruitment/Vacancy/VacancyDetails.aspx?VacancyId=82832
House Points: At the end of this week, it couldn't be any closer! Congratulations to Holmes, who have a 1-point lead over Hawking house. With two weeks to go until the end of term, who will be our first winners?
| | | | |
| --- | --- | --- | --- |
| Rowling | Attenborough | Holmes | Hawking |
| 3817 | 3732 | 3872 | 3871 |
Flu Vaccinations – Monday 16th November (all year groups): https://www.tunbury.kent.sch.uk/docs/letters/Flu_Invite_letter_V4-_FINAL_-_2020_programme.pdf This letter provides details to enable you to go online to complete your child's nasal flu vaccine consent form. PLEASE NOTE: The e-consent portal closes on 11/11/2020, 3 working days before our schools immunisation session and the immunisation team cannot accept late consents or consents on the day of vaccination.
If any parents are having issues completing the online consent form, please call the immunisation team hub on 0300 123 5205 or their local Medway office on 01634 337 666 and they will be able to go through the consent form with you over the phone.
Starting at Primary School: Do you have a child born between 1st September 2016—31st August 2017?
If your child will be 4 years old by 31st August 2021, you can apply for your primary school place now. For parents who live in the Kent local authority, parents can apply online at www.kent.gov.uk/primaryadmissions
For parents who live in the Medway local authority, parents can apply online at https://www.medway.gov.uk/info/200137/schools_and_learning/1059/applying_for_a_primary_school_place.
Applications must be submitted before 15th January 2021.
For children due to start school in reception in September 2021, we are holding a number of virtual new entrants meetings:
Thursday 5th November 2020 9:15am
Monday 16th November 2020 2:00pm
Wednesday 25th November 2020 5:00pm
Monday 30th November 2020 5:00pm
To book a place, please email office@tunbury.kent.sch.uk with your name and the session you are interested in joining. We will then send you a link to join the meeting via Microsoft Teams nearer to the time.
Dates for your Diary
Please note: at present, we are planning for all Autumn term events or meetings with parents and carers to be held online, rather than in person. This will include the Autumn term parent consultation meetings.
Term Dates: https://www.tunbury.kent.sch.uk/Parents/Term-Dates-2020-2021/
Thursday 15th October 2020 – Kent Test
Friday 16th October – Year 4 Roman Day
Monday 19th October – Thursday 22nd October 2020 – STEAM Week
Friday 23rd October 2020 – INSET Day
Thursday 5th November 2020 – New Entrants Meeting for next year's Reception (9:15am)
Thursday 5th November 2020 – Parents Evening (3:40pm – 6:20pm)
Tuesday 10th November 2020 – Parents Evening (3:40pm – 6:20pm)
Friday 13th November 2020 – Children In Need
Monday 16th November 2020 – Anti-Bullying Week
Monday 16th November – Flu Vaccinations – NHS
Monday 16th November 2020 - New Entrants Meeting for next year's Reception (2pm)
Wednesday 25th November 2020 - New Entrants Meeting for next year's Reception (5pm)
Monday 30th November 2020 - New Entrants Meeting for next year's Reception (9:15am)
Friday 11th December 2020 – Christmas Lunch