Weekly Bulletin: Thursday 22nd October 2020
Headteacher's message
Dear Parents/Carers,
We made it to the end of Term 1! I know that both children and staff are in need of a well-earned rest over half-term. After such a long period away from school earlier in 2020, everyone has done a fabulous job of adapting back into school life and the 'new normal' since September. As usual, I am incredibly proud of our whole school community for demonstrating our three core values: thriving, proactive and solidarity.
So far this year, we have been fortunate not to have any positive cases of Covid-19 among adults or children who have been in school. Despite this, we all need to remain vigilant and maintain the control measures in our risk assessment so that any future cases do not spread throughout the school. It may be a long winter ahead, and if cases do rise locally, it will be more important than ever that we follow the guidelines in order to keep our children, families and staff safe.
This week has been STEAM week in school, with children in every class getting involved in lots of different practical activities. Our whole-school challenge has been to create a ball run (like a giant marble run) which will take a tennis ball from the top of the top playground to the bottom of the bottom playground. With different sections of the run constructed by different year groups, this is a socially distant whole-school endeavour! At the time of writing, it's too soon to say whether our ball will make it….. we'll let you know.
Also in STEAM week and as part of Black History Month, we learned about these two inspiring characters. William Kamkwamba: an amazing boy who built a wind turbine from spare parts, whose story was also told in the film The Boy who Harnessed the Wind. Katherine Johnson: a NASA Mathematician who was known as a "human computer" powering the launch of astronauts into orbit, whose story was told in the film Hidden Figures.
Finally, I'm pleased to say that we now have our new Tunbury flag flying high on our school flagpole at the front of the school. Children were really pleased to see the new flag – a great improvement on our previously empty flagpole! Congratulations again to our Tunbury@50 flag design winner, Henry, shown here with his design for the new flag, and thank you to Mrs Smith and Miss Gordon for the inspiration behind this project.
Have a lovely half-term break everyone. We look forward to seeing children back in school on Monday 2nd November.
Best wishes
Ruth Austin
Headteacher
Our learning
This week's Our Learning update is from Year 3.
Notices
Team Points: Congratulations Holmes team! After a close race, they are the winners of the Term 1 Team Points competition. As their prize, Holmes are able to wear their own clothes instead of school uniform on the first Friday after half term, Friday 6th November.
| | | | |
| --- | --- | --- | --- |
| Rowling | Attenborough | Holmes | Hawking |
| 5857 | 5644 | 6119 | 5848 |
Parents' Evening: please read the email that came home today about parents' evenings after half term. Bookings open at 5pm today.
Remembrance Day: this year we are hoping to complete a whole school art project. We are hoping that this will be an opportunity to work collaboratively (at a distance). If your child could bring in a plastic bottle on the week beginning 2nd November so they can be 'quarantined' before use. We would appreciate it if the bottom of the bottle could be cut off as this is the part we will be using. Thank you for your continued support.
Children in Need: as a school we would like to continue to support this National charity event. So this year, the children (and staff) can come to school wearing their own clothes on Friday 13th November 2020 but in their house team colour please. We are unable to collect donations ourselves therefore we ask that you make your donation directly to Children in Need either by phone or online. https://donate.bbcchildreninneed.co.uk/
Starting at Primary School: Do you have a child born between 1st September 2016—31st August 2017?
If your child will be 4 years old by 31st August 2021, you can apply for your primary school place now. For parents who live in the Kent local authority, parents can apply online at www.kent.gov.uk/primaryadmissions
For parents who live in the Medway local authority, parents can apply online at
https://www.medway.gov.uk/admissions
Applications must be submitted before 15th January 2021.
For children due to start school in reception in September 2021, we are holding a number of virtual new entrants meetings:
Thursday 5th November 2020 9:15am
Monday 16th November 2020 2:00pm
Wednesday 25th November 2020 5:00pm
Monday 30th November 2020 5:00pm
To book a place, please email office@tunbury.kent.sch.uk with your name and the session you are interested in joining. We will then send you a link to join the meeting via Microsoft Teams nearer to the time.
Covid-19 symptoms: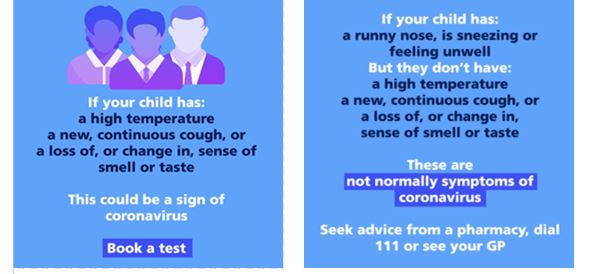 Dates for your Diary
Please note: at present, we are planning for all Autumn term events or meetings with parents and carers to be held online, rather than in person. This will include the Autumn term parent consultation meetings.
Term Dates: https://www.tunbury.kent.sch.uk/Parents/Term-Dates-2020-2021/
Friday 23rd October 2020 – INSET Day
Thursday 5th November 2020 – New Entrants Meeting for next year's Reception (9:15am)
Thursday 5th November 2020 – Parents Evening (3:40pm – 6:20pm)
Tuesday 10th November 2020 – Parents Evening (3:40pm – 6:20pm)
Friday 13th November 2020 – Children In Need – wear house colours
Monday 16th November 2020 – Anti-Bullying Week
Monday 16th November – Flu Vaccinations – NHS
Monday 16th November 2020 - New Entrants Meeting for next year's Reception (2pm)
Wednesday 25th November 2020 - New Entrants Meeting for next year's Reception (5pm)
Monday 30th November 2020 - New Entrants Meeting for next year's Reception (9:15am)
Friday 11th December 2020 – Christmas Lunch